ZOTAC Unveils All-New ZBOX E Series and C Series Mini PC Lineup

2023.08.15 8:15 PM

HONG KONG, 16 August 2023 – ZOTAC TECHNOLOGY today announces its latest lineup of its ZBOX E series and C Series, consisting of 5 Mini PC models. The announced Mini PCs boast a diverse range of size and functionality tailored for a wide variety of applications to deliver incredible performance and user experience, from office work and creative workflows, to livestreaming and gaming.

 

ALL-NEW ZBOX E SERIES

The ZBOX E Series have always been ZOTAC's most exciting range of Mini PCs, since it is designed to deliver the best performance per inch of space taken to those who need it. The all-new MAGNUS ONE and MAGNUS EN continue to pack the best consumer PC hardware components in compact designs that offer both versatility and power.

 

POWER EVOLVED – MAGNUS ONE ERP74070C & ERP74070W

As compact as ever with its award-winning 8.3L chassis, the MAGNUS ONE gets a generational leap in power and performance. With a 13th Generation Intel Core i7-13700 Processor and a ZOTAC GAMING GeForce RTX 4070 graphics card inside, the MAGNUS ONE offers impressive speed and power to play all your games with full-bore graphics and gameplay at 1440p resolution.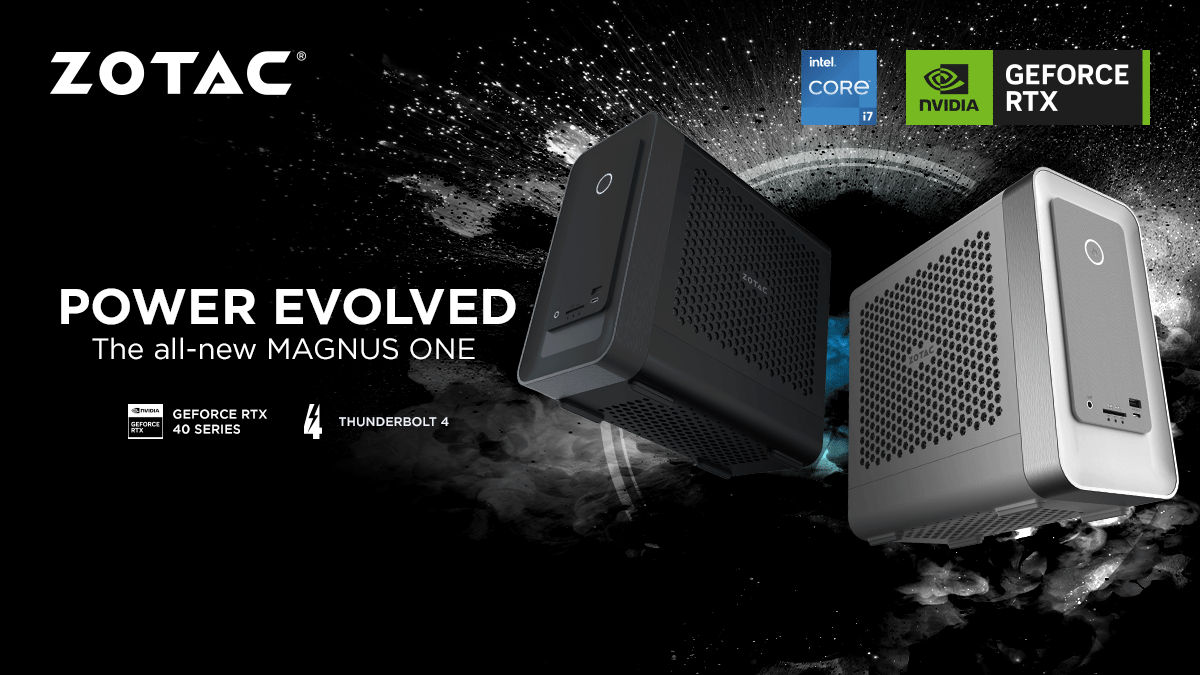 When the MAGNUS ONE White Edition debuted at COMPUTEX 2023, it has garnered great interest from visitors. From the intense feedback we received, the all-new MAGNUS ONE will also be offered in a pure white colorway, which will surely make any desk set up feel clean and elegant.
THE MINI POWERHOUSE – MAGNUS EN374070C
For more creative-minded individuals with comprehensive setups in mind, the ZOTAC ZBOX MAGNUS EN374070C may be the right compact desktop fit to keep the creative juices flowing.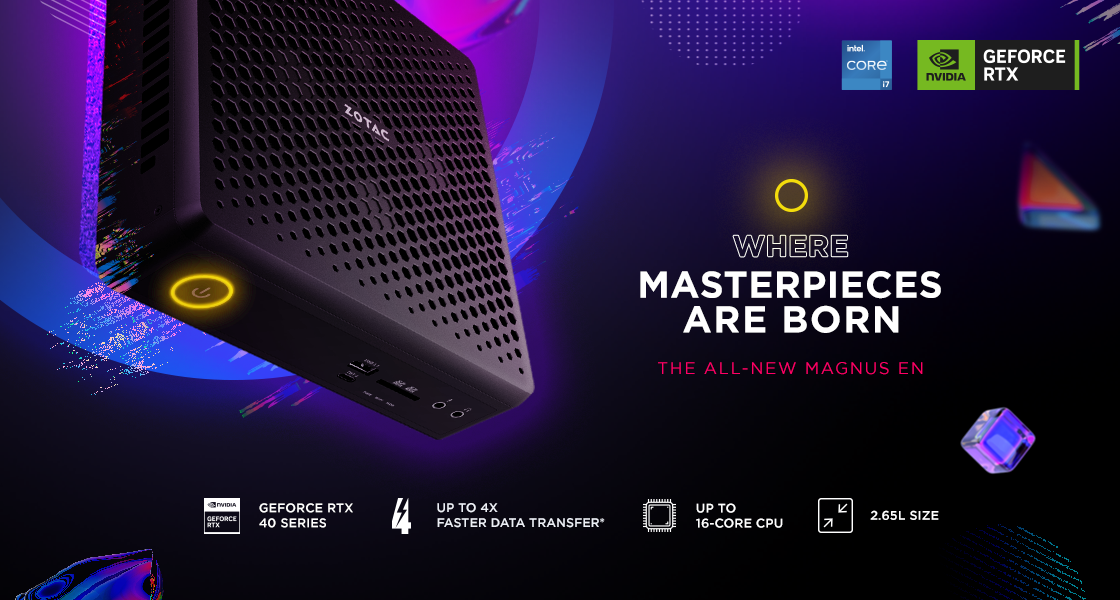 Even smaller than the MAGNUS ONE at only 2.6L, it features a best-in-class 13th Generation Intel Core i7-13700HX processor, paired with a GeForce RTX 4070 Laptop graphics card. Leverage the power of 16 cores, 24 threads, as well as graphical features like 3rd gen ray tracing and AV1 encoding for 3D rendering, video editing and creation, livestreaming, and more.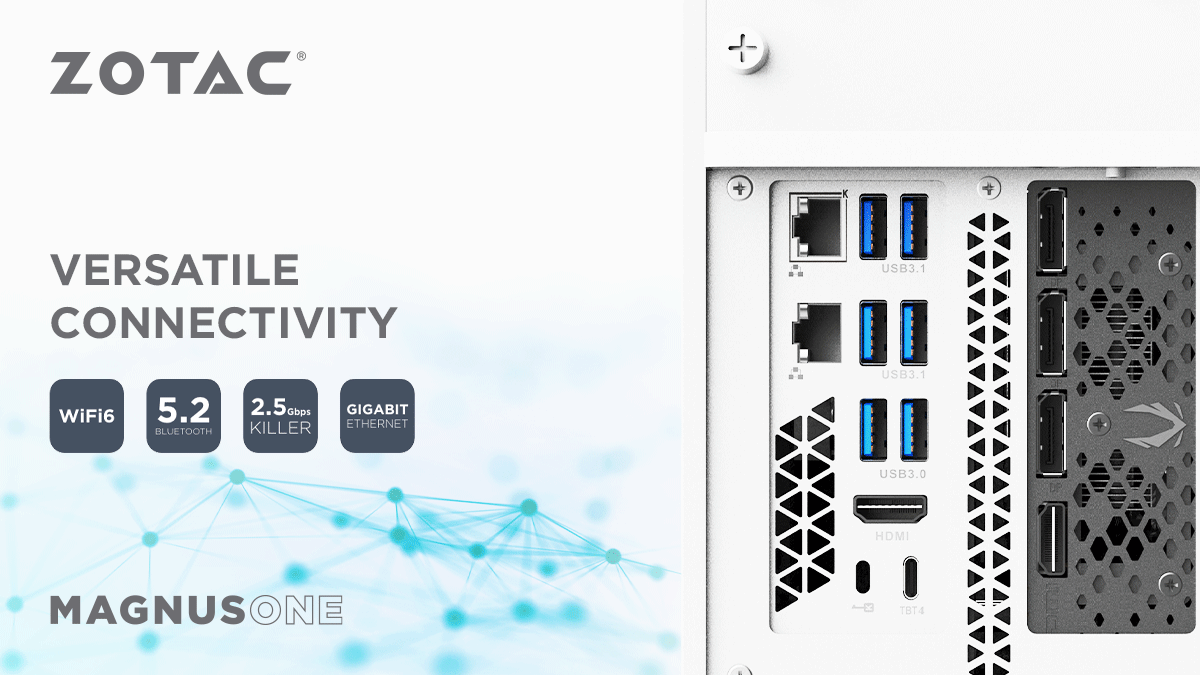 COMPREHENSIVE CONNECTIVITY
As gaming and content creation-centric Mini PCs, the MAGNUS Series includes generous connection options for a variety of controllers and devices. These include USB 3.1 ports, up to 4 display output ports with both HDMI and DisplayPort options, as well as wireless connectivity options such as Wi Fi 6 and Bluetooth 5.2. For large data transfer between devices, a Thunderbolt 4 port and UHS-II 3-in-1 SD card reader are also included.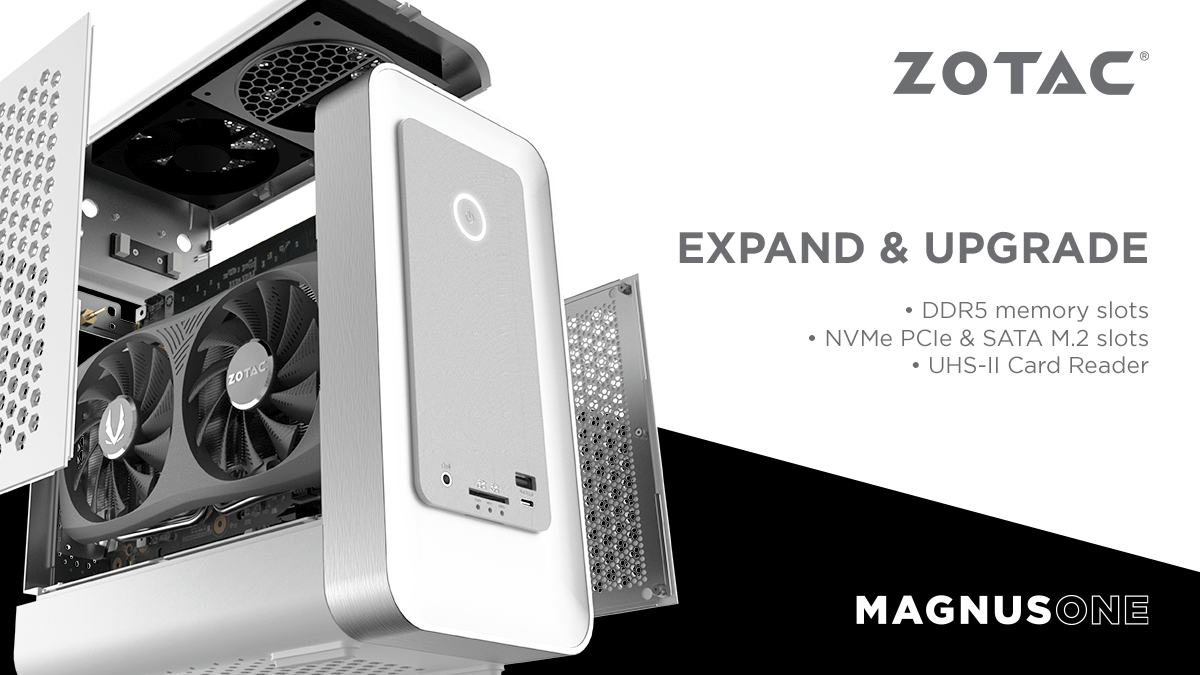 EXPAND & UPGRADE
As is the tradition with ZOTAC ZBOX mini PCs, the MAGNUS ONE and MAGNUS EN series both feature a high degree of user upgradability. Users can take apart these systems with only their bare hands, and easily swap out components such as the memory modules or storage drives. Barebones models will also be available for DIY enthusiasts who want to bring their own memory and storage.
ALL-NEW C SERIES NANO
At the same time, ZOTAC is also introducing the latest C Series nano lineup, which are passively cooled, silent-performing Mini PCs. Powered by 13th generation Intel Core processors, these Mini PCs are designed to be the silent partner in your day-to-day work.
At only 1.79 liters, 68mm tall, and with three Intel Core configurations (i3/i5/i7) available, the new C Series nano lineup delivers the right performance at every level of work, thanks to their multi-core, multi-threaded processing power. The honeycomb-patterned ventilation and the massive heatsink of the C Series nano design allow for maximum heat dissipation and breathability to keep the processor performing at peak speeds for longer.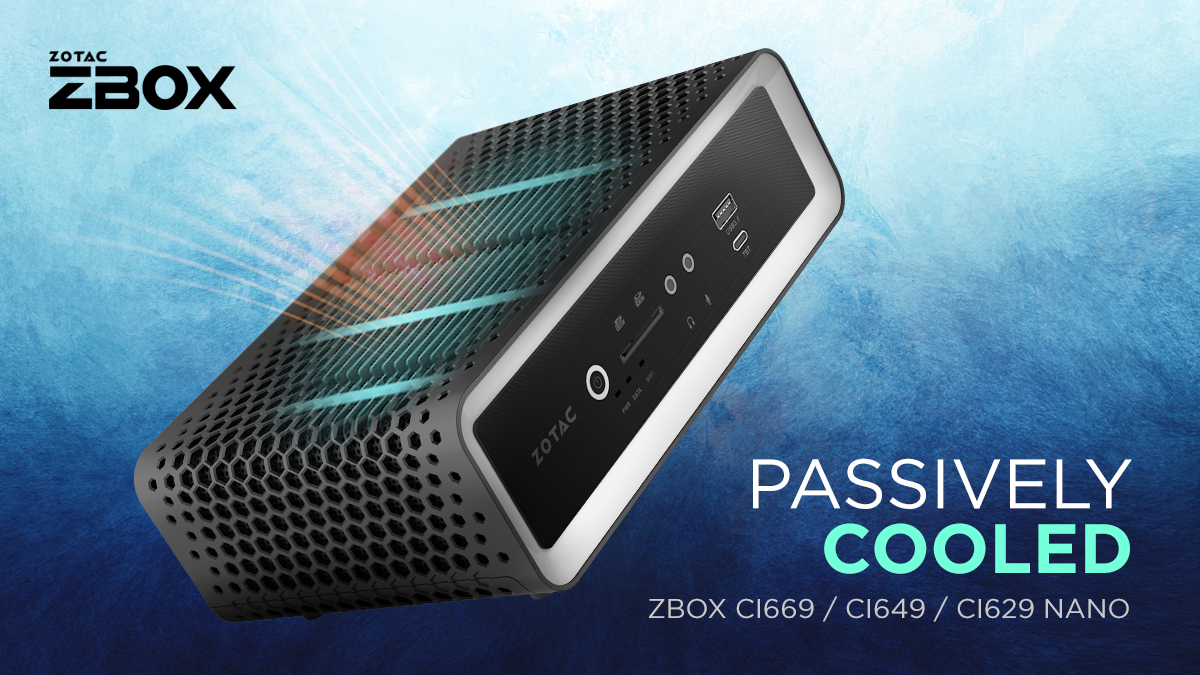 INCREASED LONGEVITY AND OPERABILITY
Since there are no moving parts in the C Series nano lineup, these Mini PCs offer a completely silent operation, but also provides maximum longevity and increased day-to-day operability with minimal wear-and-tear.
And of course, with the user-friendly design with quick access to its internals, expanding or replacing the system's memory and storage is quick and easy.
GETTING THE JOB DONE
The C Series nano also features a myriad of features to increase productivity, including a Thunderbolt 4 port for blazing fast data transfer, triple display support with HDMI and DisplayPort, as well as 2.5Gbps LAN to enable a smooth experience when using online and cloud applications.
AVAILABILITY
The ZBOX E-Series MAGNUS ONE and MAGNUS EN, as well as the ZBOX C Series CI669 nano, CI649 nano, and CI629 nano Mini PCs will be available for purchase in select regions starting today. E Series models will be offered in both barebones and Windows configurations, while the C Series will be offered as barebones systems only.