What Are eSports?

2017.11.17 6:45 PM

When it comes to eSports in the United States (US), many are still left unsure of what it all really is. After all the US is responsible for the creation of the NFL, NHL, NBA, WNBA, MLB, NWSL, MLS, and NASCAR (the list of acronyms goes on and on, we know) which are made up of different leagues, teams, and divisions. How could playing a video game even be remotely compared to the physical juggernauts of the NFL or the towers of the NBA? Although it is increasing in popularity, eSports remains as something not to be taken serious by many within the US, especially by fans of traditional sports. However, for others eSports is a very serious thing. In countries such as Japan, China, and especially South Korea and even regions of Europe and Latin America, eSports is considered a worthwhile pursuit as fame, fortune, and the glory of the win await those who participate. This article sets out to provide a brief explanation of what eSports is, how it came to be, where it is today, and where it is headed.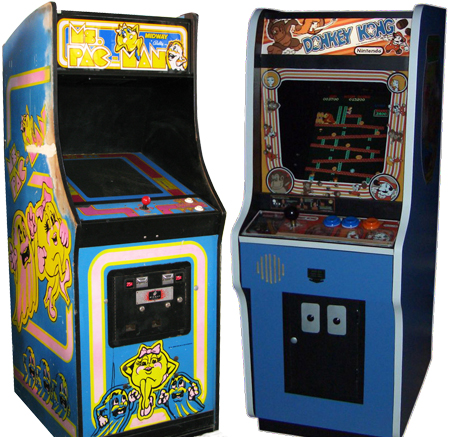 The old days of arcade gaming, well before PC gaming became what it is today.
People flocked to their local arcade when classic games such as Pac-Man, Donkey Kong, Galaga, and Centipede first made their debut. Quarter after quarter and attempt after attempt, some players would eventually become very good, ranking among the high scores of their preferred arcade game from time to time. However, some other players would become the thing of legend, often appearing at the very top of the high score screen and usually at a constant rate.
These legendary players were the best of the best, at least within their favorite arcade's local scene. Depending on how well the player was known, a small group of people would gather to watch. Sometimes a challenger would appear with an attempt at taking down a person's high score. Other times, the person with the current highest score would simply improve it, strengthening their spot at the top. Regardless of the actual situation, watching other people play video games because they were very good at them became a spectacle of sorts, making it entertaining to watch. Although the name had yet to be coined, "eSports" (which stands for "Electronic Sports") had just taken its first baby step, in a sort of way.
Fast-forward to 2017 and we are back to modern times. We still have no Moon Base (that we know of) and cars can't quite fly yet (they can drive themselves though), but the ol' pastime of watching someone else play a video game because they are really good at it continues to thrive. In fact, what was once an occasional spectacle at the local arcade is now a massive international phenomenon that spans several countries throughout the world with a qualifier or tournament related eSports event happening almost daily, at any given time. Instead of huddling around the glow of an arcade machine, hundreds and often thousands of eSports fans pack venues to watch in-person or online via live stream to basically, watch someone play a videogame because they are really good at it. Esports is now officially here and in full force. What was once an infant is now a fully grown teenager and it's charging towards adulthood.
A crowd begins to gather as onlookers watch players compete in DOTA 2 at Computex in Taipei, Taiwan.
Esports has grown greatly thanks to technology, game development, and the unrelenting competitive drive to become the best of the best. From casual gamers to full-on professional players (those who play games for a living), eSports grabs the attention of everyone eager to show off their ability to conquer any challenger or challengers that may appear, just like the arcade days. Professional players and teams play today's popular eSports driven games such as Blizzard Entertainment's Overwatch, StarCraft 2, StarCraft: Remastered (which will be the featured game of the upcoming ZOTAC CUP Masters), Heroes of the Storm, Hearthstone, and Valve's DOTA 2 (Defense of the Ancients) and CS:GO (Counter-Strike: Global Offensive) as well as the newcomer PUBG (Playerunknown's Battlegrounds - a game that will be featured in an upcoming ZOTAC CUP eSports event) from the company Bluehole. These kinds of games in addition to the player(s) are what drives growth of the audience or those who simply like to watch players and teams go head to head. Similarly to any other competitive traditional sports game in the US, such as Baseball or Football.
Currently there are some very good individual professional players as well as teams that are made up of very good professional players. Depending on the region, such professional players and teams can be paid quite well with prize pools and sponsorships in the millions of dollars sometimes. Imagine instead of your favorite traditional sports team being really good at Baseball or Basketball, they instead are really good at playing a particular video game and went head to head against other teams that were also very good at the same video game. This is what eSports is all about.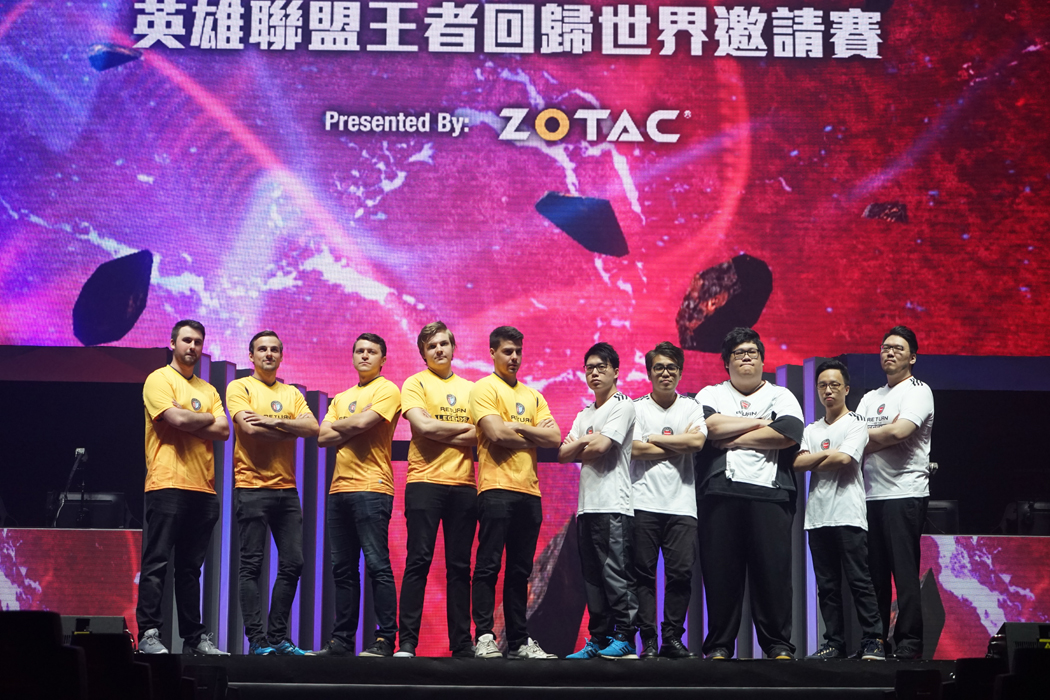 Two teams consisting of professional players get ready to go head to head at EMFHK in Hong Kong.
The line between eSports and traditional sports is beginning to blur as its popularity increases. Professional teams and players often practice, strategize, and warm-up before competing like any other traditional sports team. Additionally, the production value of eSports events (think final grand champion tournaments) are beginning to rival the look and feel of the NFL's often over-the-top Super Bowl with special guests such as musical performers and VIP hosts providing added entertainment. Similar to traditional sports, several companies are currently investing into their own professional teams and players similar to that of NASCAR drivers, where corporate sponsors are plastered all over their uniforms.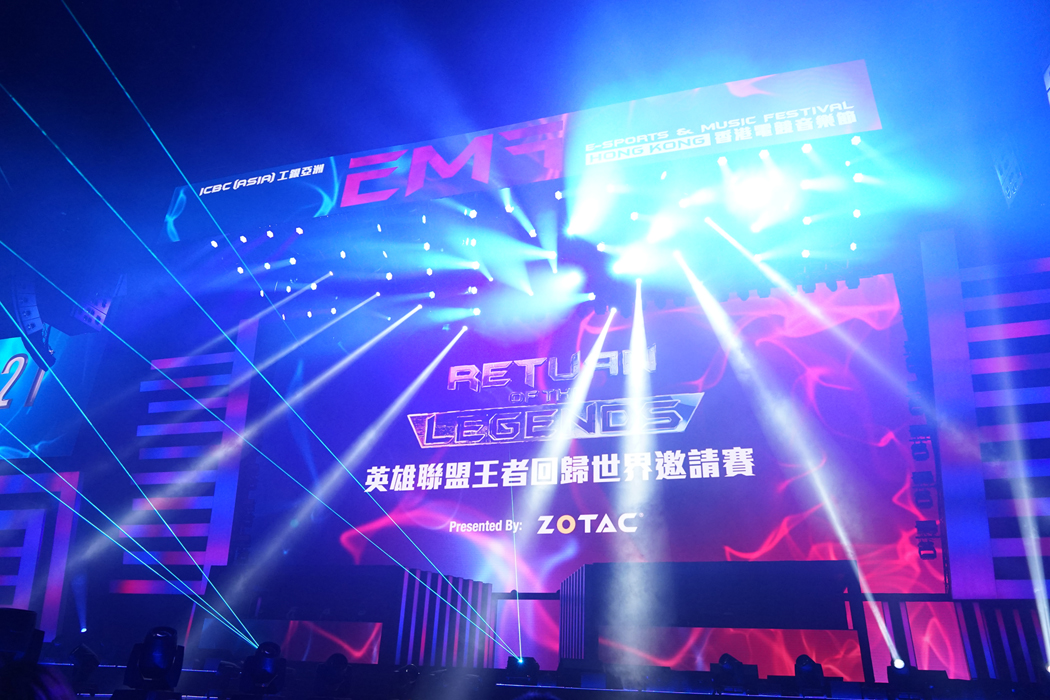 It's lights, camera, smoke, and atmosphere - eSports are a big deal. Taken at the EMFHK eSports Festival in Hong Kong.
Standard operating procedures, rules, and structure are all currently being developed and improved upon as eSports moves towards formalization and eventually an audience that consists of the mass market (that's us, you, and everyone else in the US). This means that it's only a matter of time before we begin to see televised eSports events on major media outlets. Live streams of eSports events on YouTube and Twitch are already very common. There are even platforms such as Battlefy and Challonge where eSport tournaments and matches can be managed. Even ZOTAC has a Battlefy homepage for managing the ZOTAC CUP.
It is an amazing thing to see how watching someone play a video game along with the evolution of gaming itself, has ushered in the seemingly unstoppable growth of eSports. From the classic arcade days to consoles, PC, and even smartpone mobile gaming, eSports is here to stay. Eventually, once unfamiliar eSports terms and associated video games will be as common as today's traditional sports. Especially more so with the rise of virtual reality (VR) gaming. There are already products available such as the ZOTAC VR GO PC Backpack that allows for physical movement and cable-less mobility in VR gaming. In the very near future, players will compete head to head in VR environments that will only increase the entertainment value of eSports even more.
The ZOTAC VR GO PC Backpack in action. The literal future of eSports VR Gaming and hardware is already here.
All the right pieces are beginning to fall into place. There are still many things that need to occur before it gets to where traditional US sports are today, but it's getting there and we are all here to watch eSport it unfold. It is history in the making.  
For even more eSports history in the making, be sure to watch the ZOTAC CUP Masters event on December 2nd and 3rd - 2017 where some of the best StarCraft players go head to head in the StarCraft: Remastered. Watch the live stream of this special event right here. ZOTAC has also partnered with Newegg to build six high performance gaming PCs, special for the ZOTAC CUP Masters event. Each system features a beefy ZOTAC graphics card that will unleash graphics and performance for the players during the event. You can watch the ZOTAC and Newegg system building video here.