How to use the ZOTAC GAMING SPECTRA Utility

2017.12.08 9:00 AM

Latest version of ZOTAC GAMING SPECTRA Utility: DOWNLOAD HERE

You may get all excited about having MEK1 on hand and can't wait to embark on the gaming marathon. But I would suggest setting up the SPECTRA for your MEK1 first. You may ask, why bother? Well, even Darth Vader or a Stormtrooper needs lightsabers and blasters to shine, so does the way SPECTRA completes MEK1!

And that leads to the question: What is SPECTRA?

First of all, if you owned a ZBOX mini pc or a ZOTAC graphics card, you would have known about our unique LED lighting system that allows you to select a customized color scheme. But the SECTRA utility we are talking about here is different – it is specially designed only for ZOTAC GAMING hardware, with an all-new and more intuitive interface.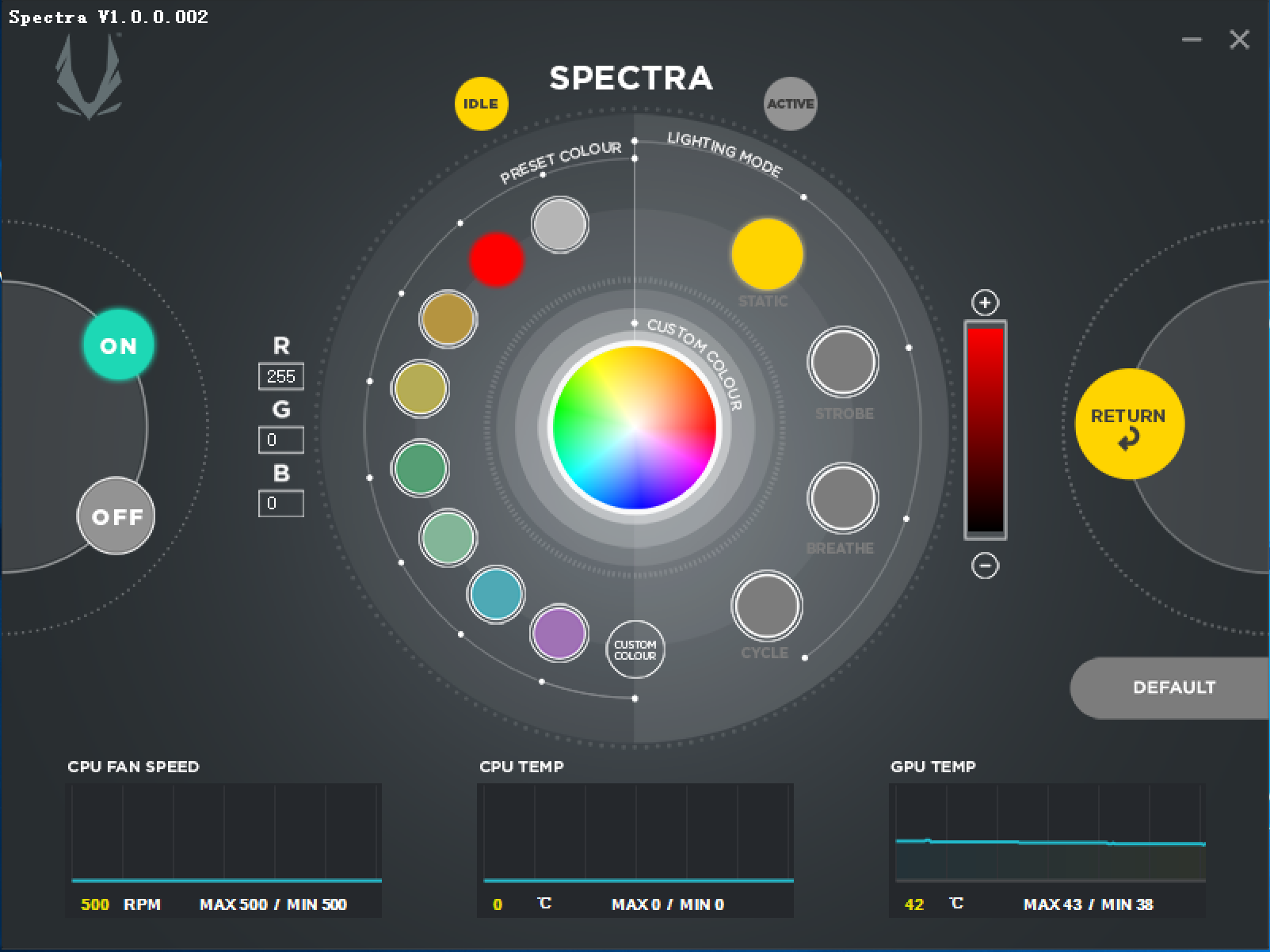 Therefore, for all the MEK1 pilots out there, make sure you grab the latest version of ZOTAC GAMING SPECTRA Utility.
Move on to another question: How to use ZOTAC GAMING SPECTRA Utility?
We hear you, let's go through all features one by one!
Idle And Active
Select either ACTIVE or IDLE on top then set your preferred SPECTRA light settings. It would be best to apply different lighting effects for the two modes so you can visually see if your gaming PC is performing or not.
ACTIVE mode – when MEK1 is in full action
IDLE mode – when MEK1 moves to idle state
4 Lighting Modes
On the right half of the circle, choose one of the 4 different lighting modes:
STATIC mode where the LEDs stay a solid single color
STROBE mode where the LEDs will continuously flash on and off
BREATH mode where the LEDs will fade on and off slowly
CYCLE mode where the LEDs will fade on and off and after each fade out, it will change color
Pick one lighting mode, for example STROBE, then choose the color you want on the left. Then MEK1 shines just the way you want right away!
Do the same for the other lighting modes. But remember, you can only choose one lighting mode and one colour at a time. If you like ever-changing colour setting, choose CYCLE mode! Once you click on CYCLE, you won't need to further set the color too.
Wide Spectrum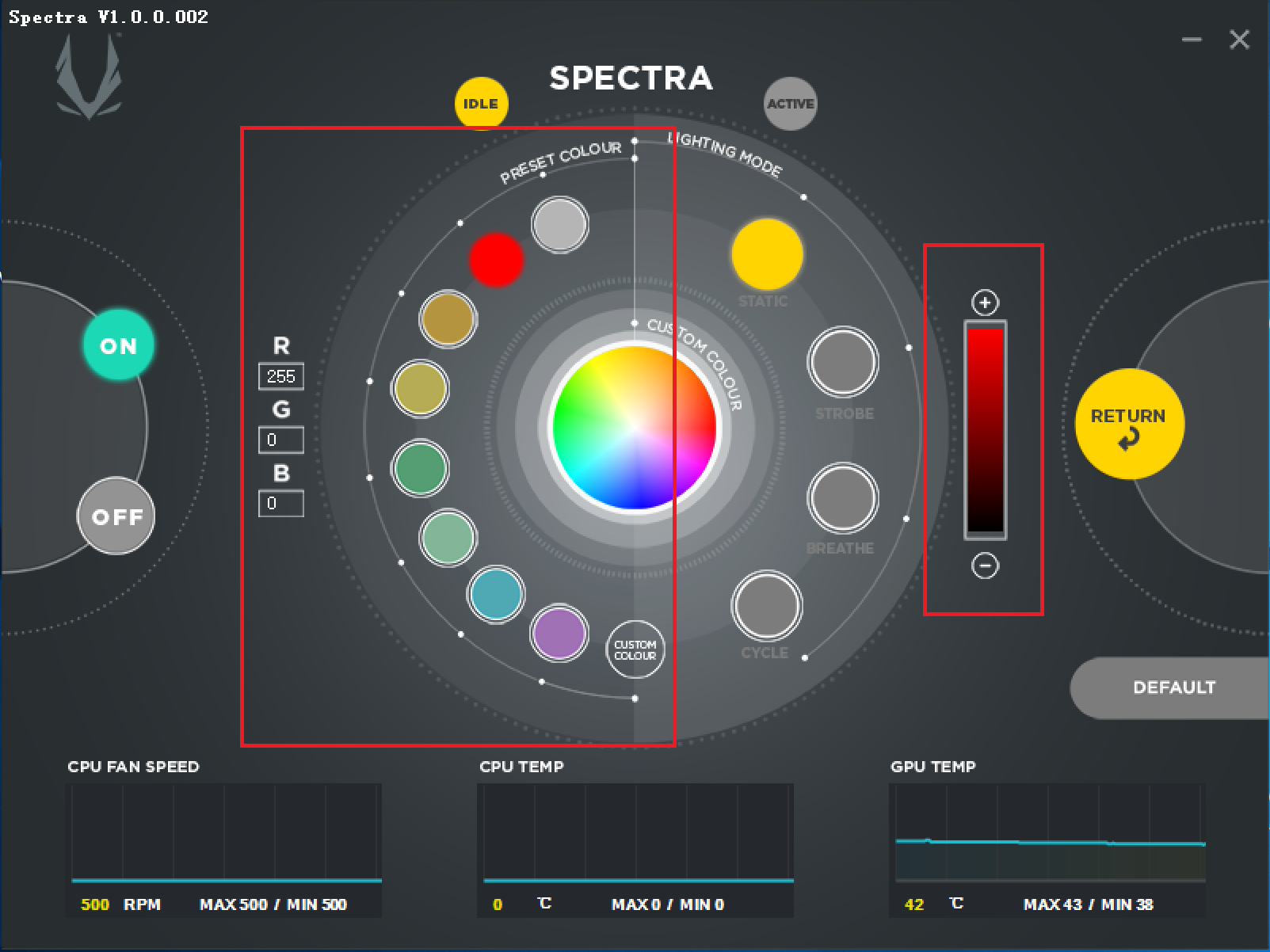 By DEFAULT, the LED color is preset to blue, and you can change it to 1 of 7 colors – White, Red, Orange, Yellow, Green, Cyan, Lavender, and the CUSTOM COLOR. Brightness level can also be adjusted whenever you choose a new color.
Custom Color
Don't worry if you are not a fan of the 8 colors provided - you can always create one! Click on CUSTOM COLOR at the bottom of the circle.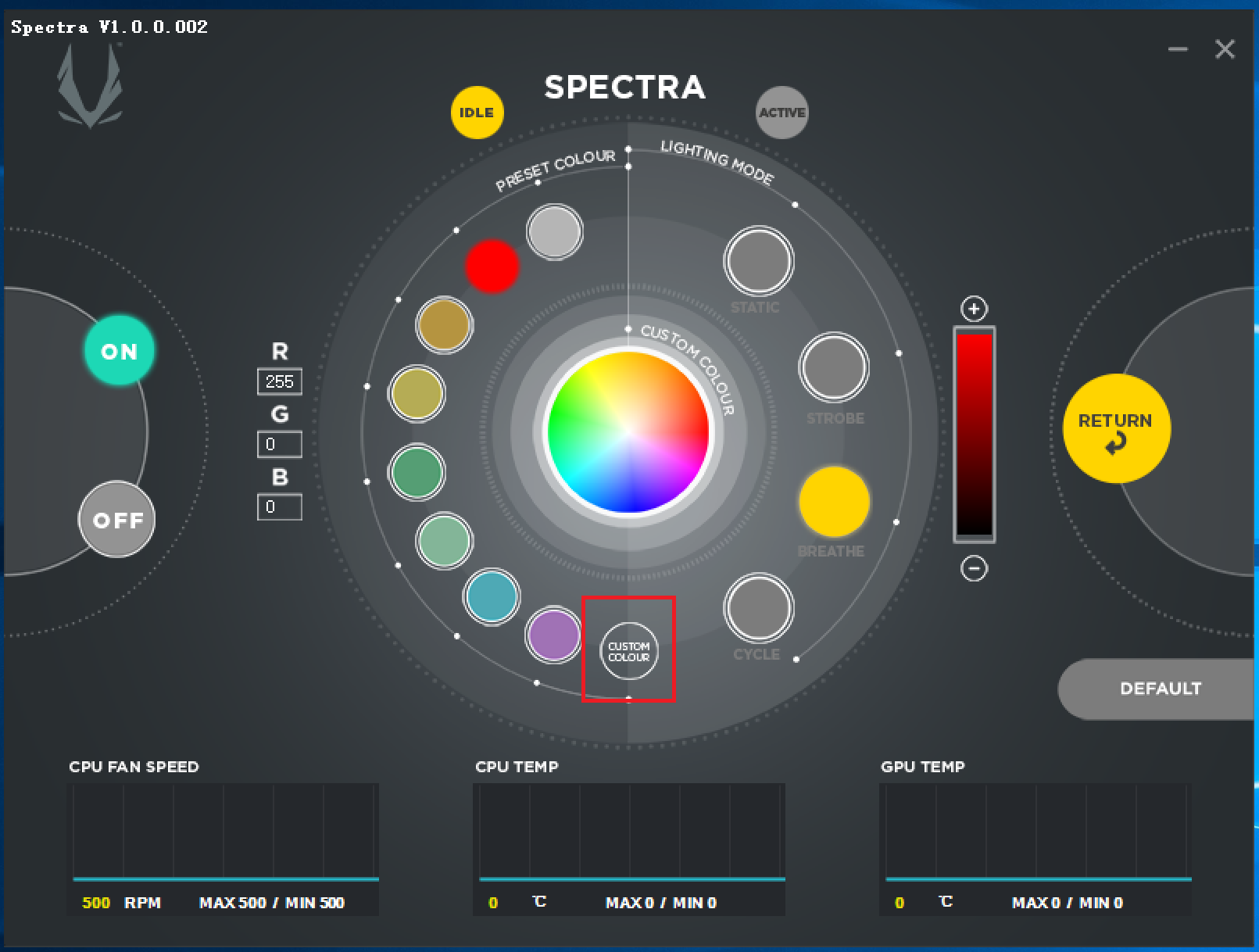 A color ring would appear and you can click to select a color hue.
ON and OFF
Fed up of all the razzle-dazzle? Simply disable all lighting effect by clicking the OFF button. Switch it back ON when you want to get the party started again.
Saved Settings
With an onboard module, you only need to set the SPECTRA lighting once and it'll come right back when MEK1 powered on. And one click on DEFAULT on the right bottom can restore the SPECTRA system to the default setting. Save you the trouble!