Introducing the CS:GO Team Lineup Entering the ZCM Europe Regional Finals

2018.06.08 4:00 AM

At the Samsung Smart Arena in Milan, Italy, eight teams will battle it out during the ZOTAC CUP MASTERS EUROPE Final, clutching their portion of a $20,000 prize pool and a spot in the Grand Finals, where they'll stand a chance to walk away with earnings from a $300,000 prize pool, the largest in ZOTAC CUP MASTERS history.  

CS:GO's EU servers are some of the most populated and active in the world, with over 12 percent of the entire playerbase residing in Germany and Poland alone. This ZOTAC CUP MASTERS FINAL will have some of the best CS:GO talent the European region has to offer. The qualifying teams, Kinguin, Valiance, Windigo Gaming, and x-kom Team, will be joined by four invitational teams, NTC, Winstrike, Imperial, and Gambit.
Success at major tournaments is nothing new to Kinguin. The team, formed in 2015, has been through various rosters and was originally founded with one of the first international lineups in CS:GO. Formed around Swedish Maikel "Maikelele" Bill, the team's original lineup fielded players from Norway, Belgium, Portugal, and were lead into battle by a German coach. This roster had a successful run at Gaming Paradise 2015, beating out Natus Vincere for first place before transferring their players only two days after winning. Currently, the team hosts an all Polish team lead by Wiktor "TaZ" Wojtas, a former member of the Virtus.pro and the longest-standing CS:GO roster. Kinguin have both the talent and experience needed to advance to the ZOTAC CUP MASTERS Grand Finals.
Valiance and Co were a Europe Closed Qualifier invite to the ZOTAC CUP MASTERS CS:GO tournament and put up a great fight but ultimately got eliminated. However, with the France-based Team LDLC.com unable to participate in the Europe Regional Finals, Valiance is stepping up in their place to be their immediate replacement. The team is certainly hoping to make it to the ZOTAC CUP MASTERS Finals to add a win with ZOTAC under their already studded belt. 
Windigo Gaming are new in the CS:GO scene and hungry to establish themselves. The all-Ukrainian roster was only finalized in December of 2017, a team founded by ex-CEO of HellRaisers. Most of the team's winnings come from various minors, and the squad has yet to place first in a large major or premiere; the ZOTAC CUP MASTERS could be their first.
Known as Venatores until March of this year, the rebranded x-kom Team is an all-Polish team that rarely takes a break from the competitive scene. Despite all their efforts, they have yet to place first in a major though they often qualify for tournaments with expansive prize pools, and much like Windigo, are ready for a win.
The invitational team Nao Tem Como, which means "There is no way", replaces the original team invite, HellRaisers, due visa issues.  Ranked in the top 10 of their country, they'll bring some heat and excitement to the tournament stage. 
Quantum Bellator Fire made history in the scene and gained numerous fans after their famous ELEAGUE Major: Boston 2018 run, becoming the first team to go from the open qualifier of a minor to the playoffs of a major in one run. The team has already conquered some of the most feared teams in CS:GO such as Virtus.pro, EnVyUs, and their current ZOTAC CUP invitational competition, Gambit. After their impressive showings in previous tournaments, it's imperative teams play their best against this powerhouse coming into the finals. They are now known as Winstrike.
Like many European-based teams, Imperial have a long standing history in the Counter Strike scene, fielding teams in Counter-Strike: Source before closing down in 2011. The organization reemerged five years later with a CS:GO roster that was disbanded after only three months due to lack of success. The Imperial continued to struggle to find a group that stuck, signing two separate rosters in less than a year. Finally, in March of 2018, the organization signed MANS NOT HOT, a team that consisted of already established professional players formally with Dignitas and Renegades. With this roster, the team went on to win first place at Copenhagen Games 2018 in an upset victory over North and Heroic, also beating out Windigo Gaming, a team they'll see at the finals.
Russian organization Gambit is primarily known for their involvement in League of Legends, acquiring their CS:GO team in January of 2016 with the signing of HS.GG, a team known for having the former core of HellRaisers. Gambit has faced off against and beaten some of the biggest names in CS:GO, beating out the former Immortals squad to secure their part of the PGL Major Kraków 2017 prize pool: $500,000. What might be the most accomplished team entering the ZOTAC CUP CS:GO EUROPE Finals, Gambit are certainly a team to be feared.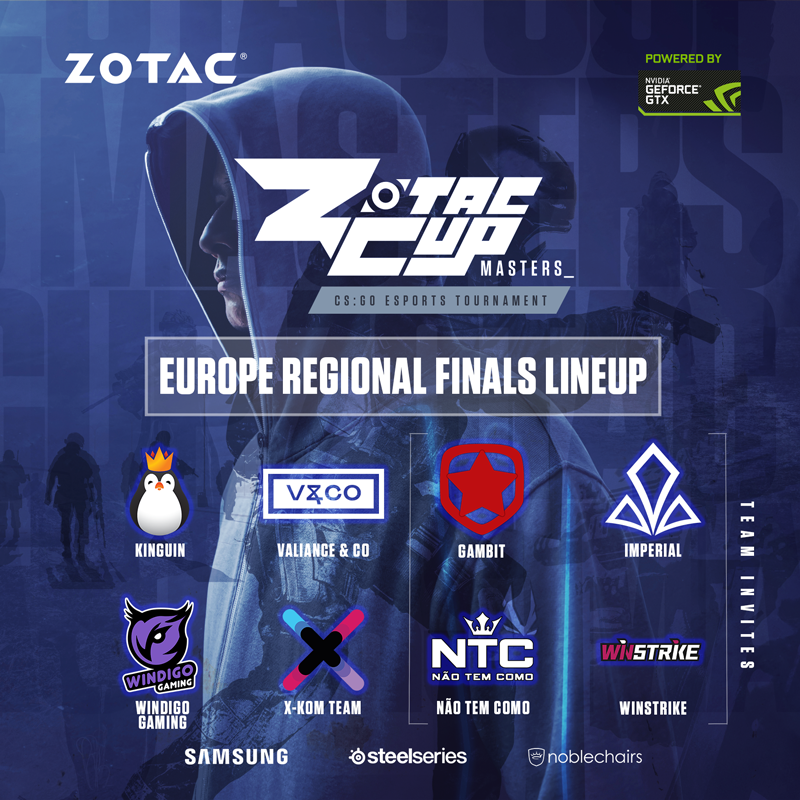 The Regional Finals will be live streamed globally on the ZOTAC CUP Twitch channel and will be available in multiple languages, including: English, German, Italian, Polish, French, Spanish, Chinese, Cantonese, and more on the ZOTAC CUP MASTERS Official Microsite.
To learn more about the ZOTAC CUP MASTERS CS:GO 2018, please visit the following links.
ZOTAC CUP MASTERS CS:GO 2018 Europe Page
ZOTAC CUP MASTERS Official Microsite