Everything you need to know about CS:GO and ZOTAC CUP MASTERS 2018

2018.03.18 9:00 PM

If you ask the mirror on the wall which is the leading First Person Shooter (FPS) in the eSports world of all, it will definitely say Counter-Strike: Global Offensive (CS:GO), period. You may not be sold on the idea as there are more popular titles such as Overwatch and Halo, but let the numbers tell you something; according to Valve, CS:GO is one the most played games of 2017 on Steam with a consistent over 100,000 simultaneous players in 2017, on par with PlayerUnknown's Battlegrounds and Dota 2. It is also the second top game of 2017 according to esportsearnings.com, boasting $19,242,958 total prize money, 4754 players and 893 tournaments. Add in the fact the game won "eSports Game of the Year" at the 2016 eSports Industry Awards, CS:GO has proved that it is never the old news with its fan base continuing to grow. The list can go on and on, but before you are drowned by all the dead numbers, let's go through some fun facts behind CS:GO.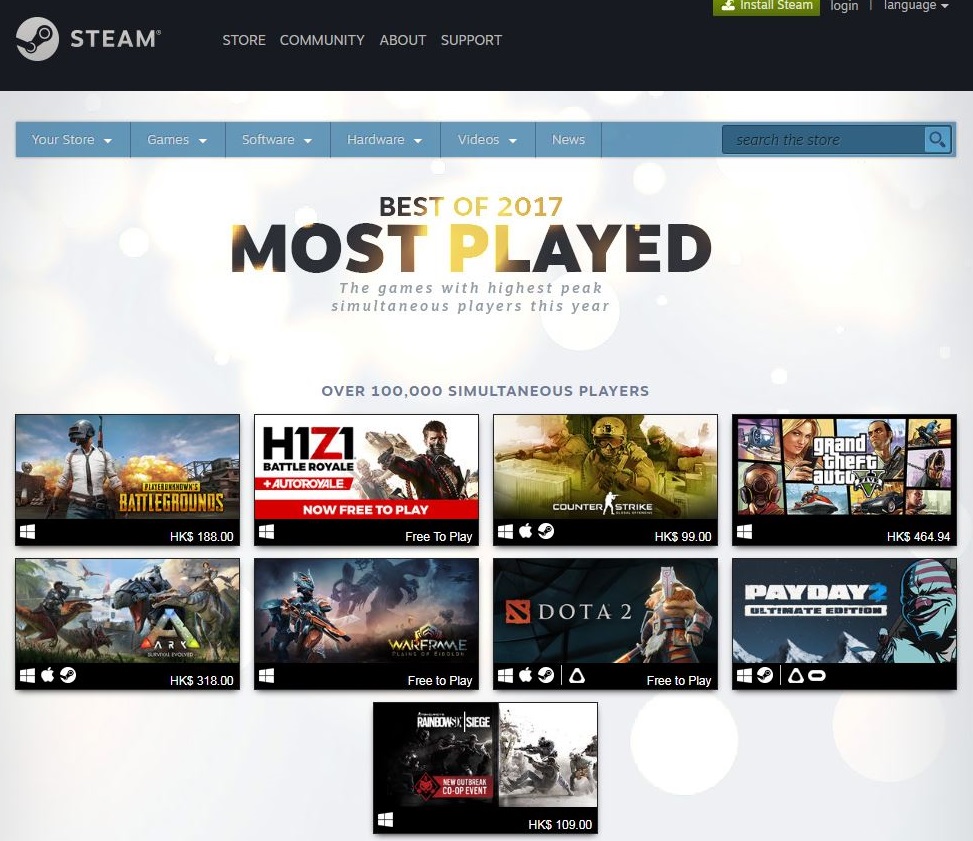 Remember back in the old days when the original Counter-Strike (CS) hit the ground running with its competitive and multiplayer gameplay, it was the time when we still used dial-up internet to get our computers connected and play online. Some ended up being stuck in the internet cafe to play CS with friends and strangers day and night, with the robotic yet addictive radio message "Fire in the hole" echoing in the room. These are the childhood memories for some of the players who went through that generation. But after 18 years, CS:GO, the fourth release in the main series, still tops the global charts in terms of viewership and popularity. How does the trend last for so long when there are more FPS games being brought to the market throughout the years?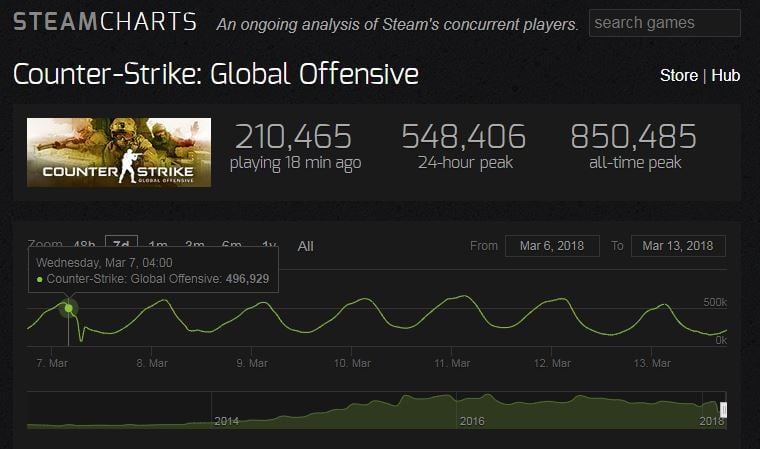 The player count of CS:GO on Steam (statistics until March 2018) has constantly placed third, lagging behind only PUBG and Dota 2.
When CS first released in 1999, it was only a modification for Half-Life, another FPS classic by Valve. Minh Le and Jess Cliffe co-created the mod as a more realistic shooter and it is pretty straightforward and simple: five terrorists face off against five counter-terrorists. You would either secure a location to plant or defuse a bomb, or rescue or guard hostages, as simple as that. But game is never meant to be complicated to start with - game is meant to be fun to play. The fact that it required strategies, teamwork and extremely quick reactions had attracted many gamers. Within two weeks since Half-Life opened its CS section, the site had received 10,000 hits. The first public beta of CS was then released, followed by eighteen further "beta" versions. On April 12 2000, Valve announced to team up with CS developers and on the same year CS progressed from a beta to a full release on the Microsoft Windows platform. None have guessed the crudely made mod would become a huge success.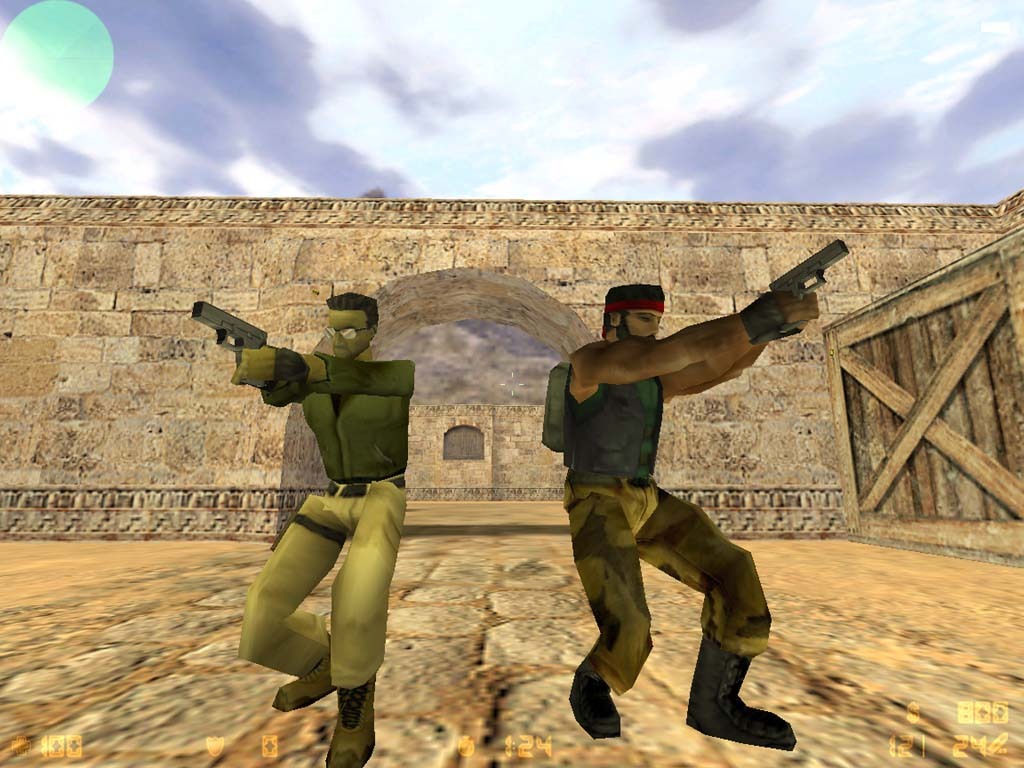 However, how the game turned out to be an internationally recognized competition title comes as no surprise. CS is a skill-based game with a high skill ceiling from the beginning. It's exciting to watch and simple to understand for audiences, but its tactics-emphasizing and unpredictable gameplay requires a lot of skill. From 2000, CS majors started to take place and for a great number of years, professional players from around the world have joined teams in the flourishing first-person shooter community. We had Ninjas in Pyjamas, fnatic, Golden Five, mTw and many more in the golden age, and we got to witness all kinds of moments in the competition that left you on the edge of your seat while watching, such as turn-the-tables 1 vs 5 victories, outrageous head shots in a row, insane wallbangs, etc. In addition, each of CS's iterations – CS:1.6, CS:CZ, CS:S had all refined the classic gameplay and enhanced the games' storyline and visuals. But none have reached the height of the latest iteration - CS:GO.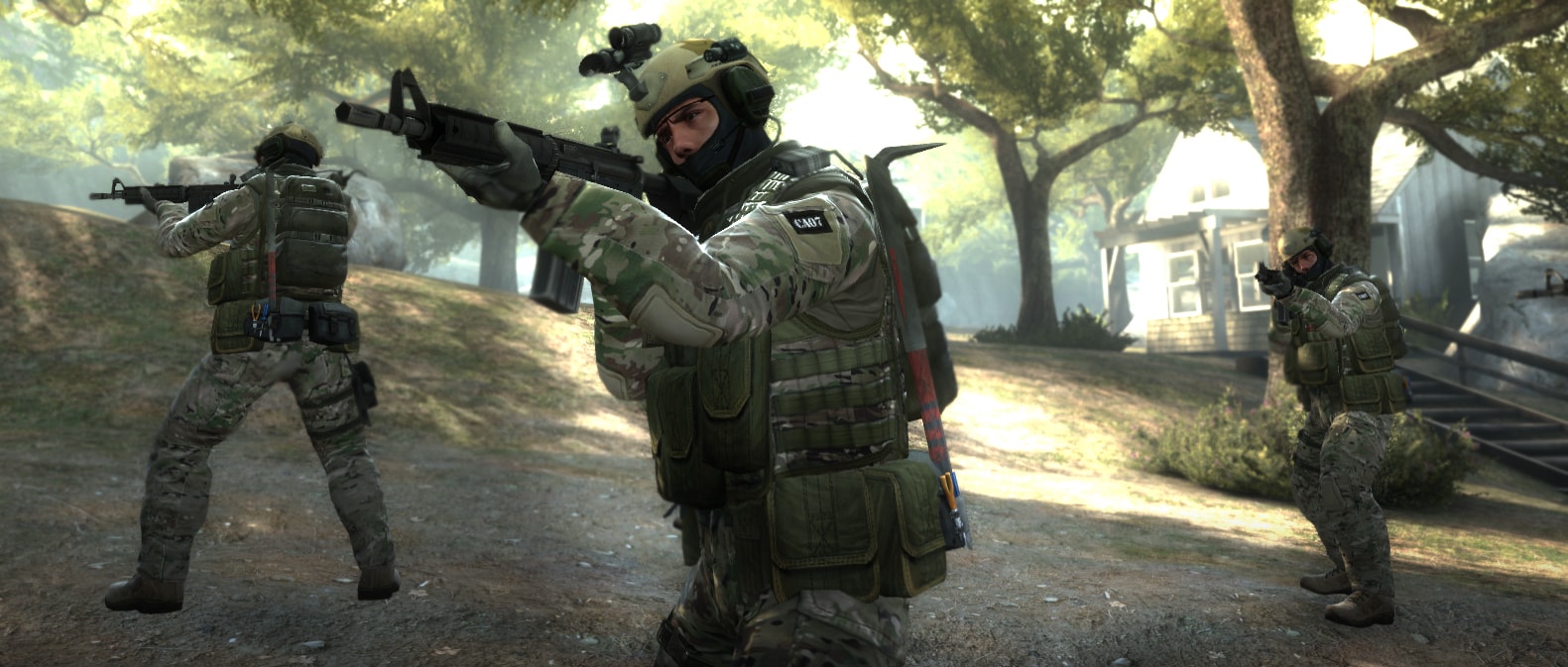 In 2012, while eSports was in bloom, Valve breathed new life into the franchise by releasing CS:GO. CS:GO introduced new maps, character models, weapons and the visually appealing skins that cover most weapons. The ranked matchmaking system and diverse game modes also made it far more accessible for new players than any of the previous iterations have ever been. Since then, CS:GO has become the poster boy of FPS eSports titles and a benchmark of a player's skill, especially thanks to all the talented pro players who came up with the craziest ideas that helped shape the game. There were unorthodox plays that could jump straight to the legend. For example, Coldzera's double jumpshot kill in MLG Columbus 2016, S1mple's fake flash with AWP in ESL One New York 2017, and Fnatic's quadruple AWP setup in ESL One Cologne 2015. Incredible (and hilarious) pro plays were being pulled off in Major Championship, you could imagine how the crowd had gone wild. Until now, CS:GO has remained one of the world's top and most-watched eSports, with all sorts of world-wide tournaments on the road.
Coldzera's jumping-no-scope AWP killing shots displayed pure skill, getting many others to imitate the act.
And it's the time again. We hosted the first ZOTAC CUP offline event, the ZOTAC 10 Year Anniversary CS:GO Invitational Tournament back in 2016, and this year we are taking the competition to the next level! We are proud to announce the kick-off of the ZOTAC CUP MASTERS CS:GO 2018 Tournament. From March to June 2018, the online qualifiers will take place throughout Asia, Europe and Americas via the ZOTAC CUP Online Tournament Platform, and only the best teams will advance to the Regional Qualifier Finals to battle it out for the $20,000 USD Regional Prize Pool and a Grand Finals slot in Hong Kong. The high-stakes Grand Finals Tournament will boast a prize pool of $300,000 USD - the biggest prize pool in the ZOTAC CUP MASTERS history, and there will be one China Team invite and four invitational pro teams to enter the fray for a total of 8 teams to heat things up!
Sharpen your knives as registration for online qualifiers has now opened for all regions. Asia will pick the top 6 teams while Europe and America will each have 4 winning teams to join the regional finals. You could expect lots of exciting matches ahead. Stay tuned for our next blog!
For more up-to-date news, please visit:
ZOTAC CUP MASTERS CS:GO 2018 Official Page
If you would like to sign up for the Online Qualifiers, click here.