THE ALL-NEW C SERIES MINI PC - THE STRONG, SILENT TYPE

2018.08.08 9:00 PM

ZOTAC has always been a pioneer of all things small: ZBOX Q Series, our VR Backpack and now, our all-new ZBOX C Series Mini PCs. We are constantly trying to push the limit on computer hardware and create the most powerful systems possible while reducing size, heat, and noise. That's why we made the new ZBOX C Series Mini PCs. We're enabling PC users to do what they always do, where they want, without restrictions.

 
We've changed the entire look. With an all new two-tone design, our Mini PCs look more stylish than ever, made to fit into any room in your home or office. The sleek, modern honeycomb design distinguishes your new computer while ensuring optimal airflow; we know computer heat can become unbearable. Whether browsing the web or streaming your favorite songs and shows, we've engineered our new Mini PCs to give you up to 66 percent more cooling power than the previous generation C Series so you can beat the heat and stay comfortable.  
Completely fan-less, these compact powerhouses are capable of handling up to a 25W thermal design processor. With no moving parts, your Mini PC will see a longer, quieter lifespan. The all-new design features 270 degrees of breathability, with 90 percent of the surface area designed with open ventilation for maximum breathability thanks to our signature honeycomb pattern.
After pushing the limit on design and airflow, we pushed the limit on power too. Equipped with an 8th Gen Intel® Core™ i7 processor with four cores featuring Hyperthreading™ for the first time in the C Series nano series' history. Our new lineup gives you up to 20 percent faster processing performance than previous generations.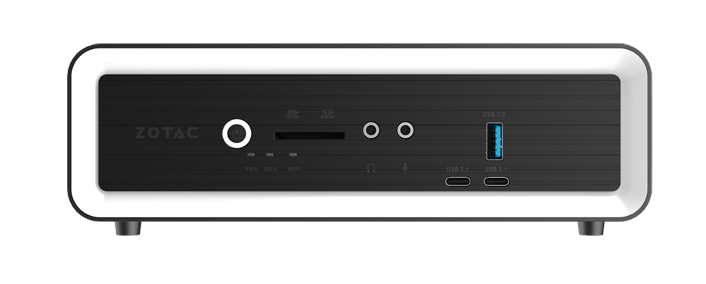 With an available HDMI 2.0 and DisplayPort 1.2, the all new ZBOX C Series is dual display ready. The integrated Intel UHD Graphics 620 bring 4K @ 60Hz display resolutions so you can see more, with increased clarity.
And when we say it's mini, we mean it. Our all-new C Series Mini PCs measure at just 204mm x 129mm x 68mm (8.03in x 5.08in x 2.68in,) you can lay, hang, or hide your new ZBOX C Series PC wherever you like. Even customize it however you like with tool-less access to the SO-DIMM memory slots and 2.5" HDD/SSD bay, we've kept simple installation and expansion as a focus with our ZOTAC ZBOX Mini PCs.
Click the links below to learn which of our new ZBOX C Series Mini PCs is right for you:
ZBOX CI660 NANO
https://www.zotac.com/product/mini_pcs/zbox-c-series/all
ZBOX CI640 NANO
https://www.zotac.com/product/mini_pcs/zbox-c-series/all
ZBOX CI620 NANO
https://www.zotac.com/product/mini_pcs/zbox-c-series/all