Enter a world of elevated performance and quality when using ZOTAC graphics cards. Your computing experience is amplified every second by stunning visuals and lightning-fast performance.
Whether it's the latest graphics processors or high quality components, the ZOTAC Pulse symbol represents the best engineering and innovations available designed to deliver maximum performance and reliability while maintaining attractive pricing.
ZOTAC equips all our graphics cards with the absolute best technology and features.
Manufactured with electrolytic capacitors with aluminum caps, ZOTAC graphics cards are engineered with superior board quality that leads to long-term reliability.
Using SMT choke coils, ZOTAC reduces radiation for high-performance graphics cards that are also eco-friendly.
ZOTAC's AMP! and Infinity Edition graphics cards are manufactured using PCB with 2 to 4 more layers than the standard solution in order to achieve the highest overclocking while maintaining strong stability.
ZOTAC offers a wide variety of choices for every type of end-user through our standard solution and Edition graphics cards.
For water-cooled gaming,
ZOTAC Infinity Edition graphics feature maximum
overclocks using enhanced water-cooling solutions.
For amplified performance,
ZOTAC AMP! Edition graphics cards feature maximum
overclocks while maintaining traditional air-cooling.
For the home theater environment,
ZOTAC ZONE Edition graphics cards receive advanced
cooling enhancements for class-leading performance
while operating silently or inaudibly.
For the eco-friendly conscious,
ZOTAC ECO Edition graphics cards feature
enhancements that deliver superior energy-efficiency
without sacrificing performance.
For the cost conscious,
ZOTAC Synergy Edition graphics cards deliver an
attractive balance of performance and affordability.
ZOTAC is confident in our products and cares about the community, which is why ZOTAC offers worldwide extended warranty. End users can enjoy the security of product longevity by simply registering online on ZOTAC's website.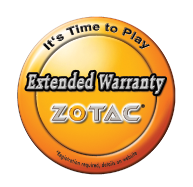 Leap to higher visual experiences when using ZOTAC graphics cards. The ZOTAC Pulse represents our commitment to continually delivering a premium visual experience for our end users. With ZOTAC, you always get more.
It's time to play with ZOTAC!