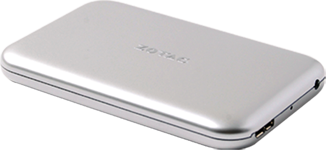 supports 4 modes
JBOD

Access your mSATA SSDs
up to 1-2 drives

BIG

Access 2 mSATA SSDs as
1 large drive

RAID 0

Span data across 2 mSATA
SSDs for increased performance

RAID 1

Protect your data with a mirror
copy on a 2nd mSATA SSD

Presenting the first mSATA USB 3.0 external storage device
Keep superspeed storage in your pocket with the ZOTAC RAIDbox USB 3.0 storage device. The ZOTAC RAIDbox enables users to customize the amount of storage
available by accepting compact mSATA SSD drives for outstanding performance in a miniature form factor.
Two mSATA slots with support for RAID 0 or 1 technology are available in the ZOTAC RAIDbox to let the users choose between maximum read and write performance with RAID 0 or protect your data with RAID 1. A USB 3.0 interface connects the ZOTAC RAIDbox to compatible PCs devices to eliminate performance bottlenecks and achieve maximum performance.
Note: mSATA SSD modules are not included and have to be purchased separately