mini-PCs
Introducing the ZOTAC mini-PC series – the perfect everywhere mini-PC for all your computing needs. Whether it's your living room, kitchen, bedroom or office, the ZOTAC mini-PC series are perfect for all your needs and demands thanks to the miniature size and versatile placement options.
THE IDEAL

MINIATURE SOLUTION

FOR ANY ROOM

IN YOUR HOME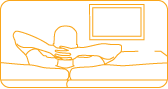 In your living room...
In your kitchen...
In your bedroom...
ZOTAC mini-PC series are powered by high-performance yet energy-efficient CPUs and GPUs that delivery plenty of computing power while consuming minimal amounts of energy for eco-friendly computing. The ZOTAC mini-PC series pack plenty of power and performance for your routine tasks such as web browsing, checking e-mail, word processing, video playback and other tasks.
Product Configurator:
You can compare up to 4 Items.
Compare
Results: 1-10 of 131

Form Factor
Socket
Chipset
GPU
Hard Drive
Graphics Output

mini-PC
N/A
N/A
N/A
32GB onboard M.2 SATA 1 x 2.5 inch SATA SSD/HDD slot
HDMI + DP +VGA


Form Factor
Socket
Chipset
GPU
Hard Drive
Graphics Output

mini-PC
N/A
N/A
N/A
1 x 2.5 inch SATA SSD/HDD slot
HDMI + DP +VGA


Form Factor
Socket
Chipset
GPU
Hard Drive
Graphics Output

mini-PC
N/A
N/A
N/A
1 x 2.5 inch SATA SSD/HDD slot
HDMI + DP +VGA


Form Factor
Socket
Chipset
GPU
Hard Drive
Graphics Output

mini-PC
N/A
N/A
Intel HD Graphics
32GB onboard M.2 SATA 1 x 2.5 inch SATA SSD/HDD slot
HDMI + DP +VGA


Form Factor
Socket
Chipset
GPU
Hard Drive
Graphics Output

mini-PC
N/A
N/A
Intel HD Graphics
64GB 2.5" SATA SSD
HDMI + DP +VGA

Form Factor
Socket
Chipset
GPU
Hard Drive
Graphics Output

mini-PC
N/A
N/A
Intel HD Graphics
1 x 2.5 inch SATA SSD/HDD slot
HDMI + DP +VGA

Form Factor
Socket
Chipset
GPU
Hard Drive
Graphics Output

mini-PC
N/A
N/A
NVIDIA GeForce GTX 960
120GB M.2 SATA SSD 2 x 2.5-inch SATA HDD/SSD bay
4 x HDMI


Form Factor
Socket
Chipset
GPU
Hard Drive
Graphics Output

mini-PC
N/A
N/A
NVIDIA GeForce GTX 960
1 x M.2 SATA 6.0 Gbps SSD slot 2 x 2.5-inch SATA HDD/SSD bay
4 x HDMI

Form Factor
Socket
Chipset
GPU
Hard Drive
Graphics Output

mini-PC
N/A
N/A
NVIDIA GeForce GT720
Onboard 32GB mSATA SSD 1 x 2.5-inch SATA HDD/SSD bay
HDMI + DVI


Form Factor
Socket
Chipset
GPU
Hard Drive
Graphics Output

mini-PC
N/A
N/A
Intel HD Graphics
Onboard 32GB M.2 SSD 1 x 2.5-inch SATA HDD/SSD bay
HDMI + DP