GPU 101 - Part 1 - Integrated vs Discrete Graphics Hardware

2022.02.11 6:30 PM

 

This article is for those new to building a desktop computer or are looking into upgrading/adding a GPU in the PC to enjoy a better PC Gaming experience. This article aims to give you a better understanding of ZOTAC GPUs and of GPUs in general. Let's get started.

 

GPU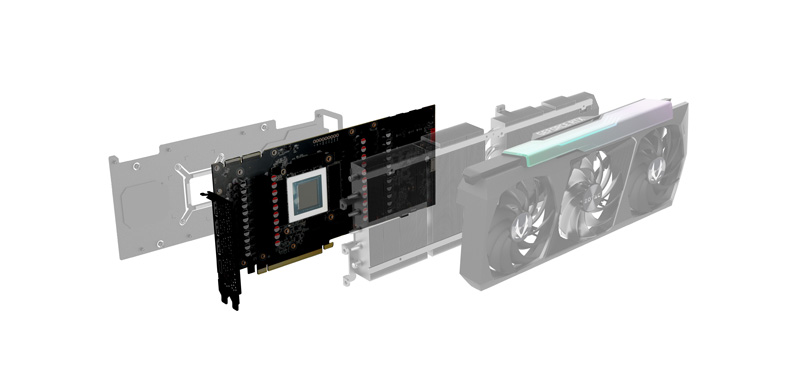 What is a GPU? It stands for Graphics Processing Unit or otherwise known as a graphics card. A GPU is generally the chip that makes a graphics card possible. The GPU itself is generally not visible as it is layered underneath the shroud/cooler/design of a graphics card.
Integrated and Discrete Graphics Card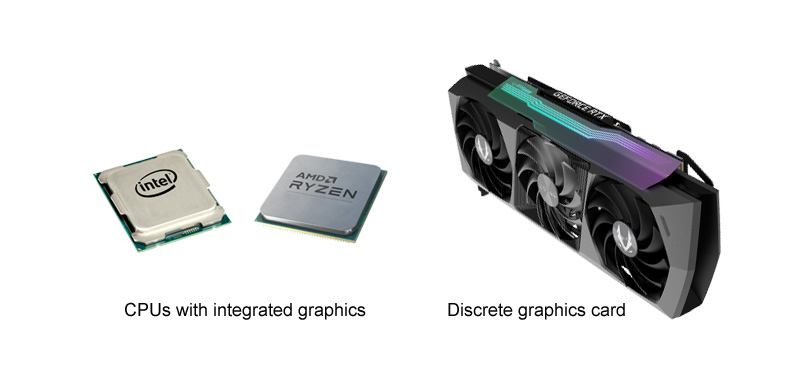 What is an integrated or discrete graphics card? An Integrated Graphics Card is generally the GPU feature that comes from the CPU. Heard of an Intel UHD/HD Graphics? That's an integrated GPU because it comes packaged/included with the CPU chip. It lets you quickly and easily get up and running on a desktop PC and for some, it may be all a user needs when using a computer. These typically involve those who do light computer work such as word processing, spreadsheets, emails, browsing the web, streaming video, or streaming audio.
A discrete graphics card is generally a dedicated graphics card or standalone graphics card that exists just to do graphics/display processing. Since it is a dedicated card, it is far more powerful and capable than an integrated GPU. A ZOTAC GAMING GeForce RTX 3050 for example, is a dedicated graphics card. Why would you need a Discrete Graphics Card? When you get into PC Gaming, you will generally want a more powerful graphics card to achieve better graphics which include sharper details, higher resolutions, smoother graphics, and faster graphics. You may also benefit from a dedicated graphics card even when gaming isn't on the menu. If you're a Creator, the dedicated graphics card can help speed up processing or rendering of your work. This is called GPU Acceleration and you will definitely want to take advantage of it. Most creative applications today have the option to turn on GPU Acceleration such as Photoshop, Illustrator, Premiere, After Effects, Maya 3D, 3D MAX, Davinci Resolve, and much more.
Another benefit Discrete Graphics Cards provide is the ability to support a multi-monitor setup. With ZOTAC GAMING discrete GPUs, they can support up to 4 displays at once so you can give your multi-tasking a boost no matter the type of task.
Slot Size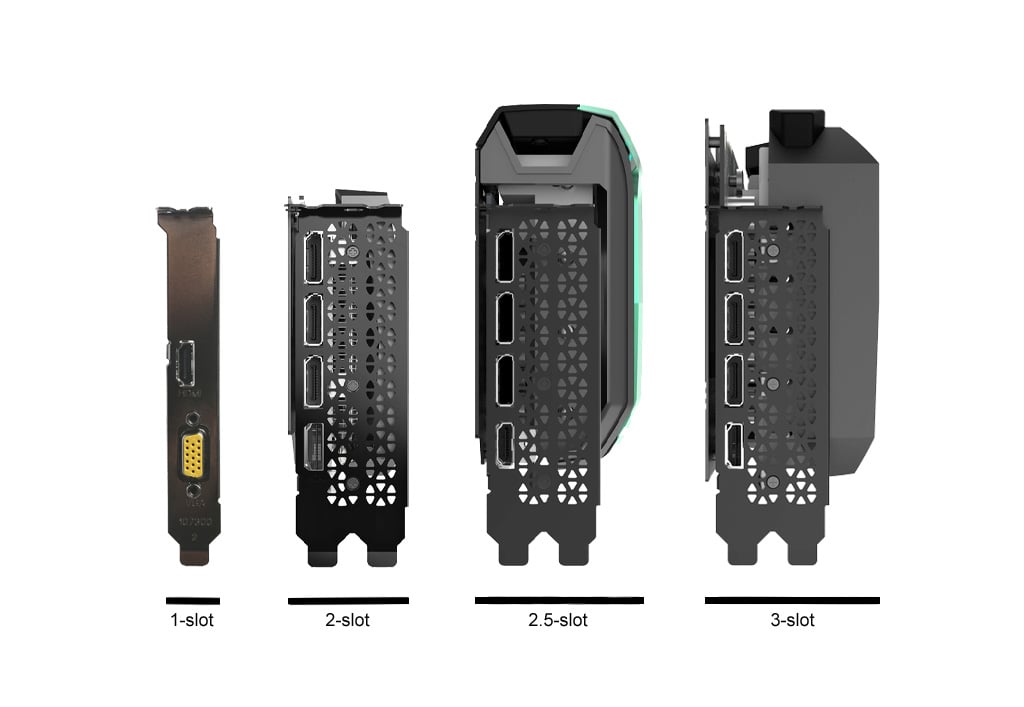 You may have seen designations of 2-slot, 3-slot, 4-slot on GPU specifications. What does it mean? Generally, it is a measurement of the thickness of a GPU. On the rear of PC cases, you will see some available slots where you can purchase and install add-in cards for your PC. These can include a dedicated sound card, network card, video capture card and so on. A 2-slot GPU will mean that it will take up two slots from your computer case. Another interpretation is the number of PCIe lanes or slots the add-in card will take up on a motherboard.
Read More
GPU 101 PART 2 - Resolution, Refresh Rate, and FPS