ZOTAC IN ACTION - JUNE 2023

2023.06.27 6:15 AM

 

COMPUTEX 2023

As the largest annual computer expo around the world, it has always been a melting pot of innovation, and a celebration of technology for hardware enthusiasts. We are very proud to be one of the companies jumping in head-on into this exciting event after its COVID hiatus.

 

For those of you who couldn't join us, here's a recap of what we showed.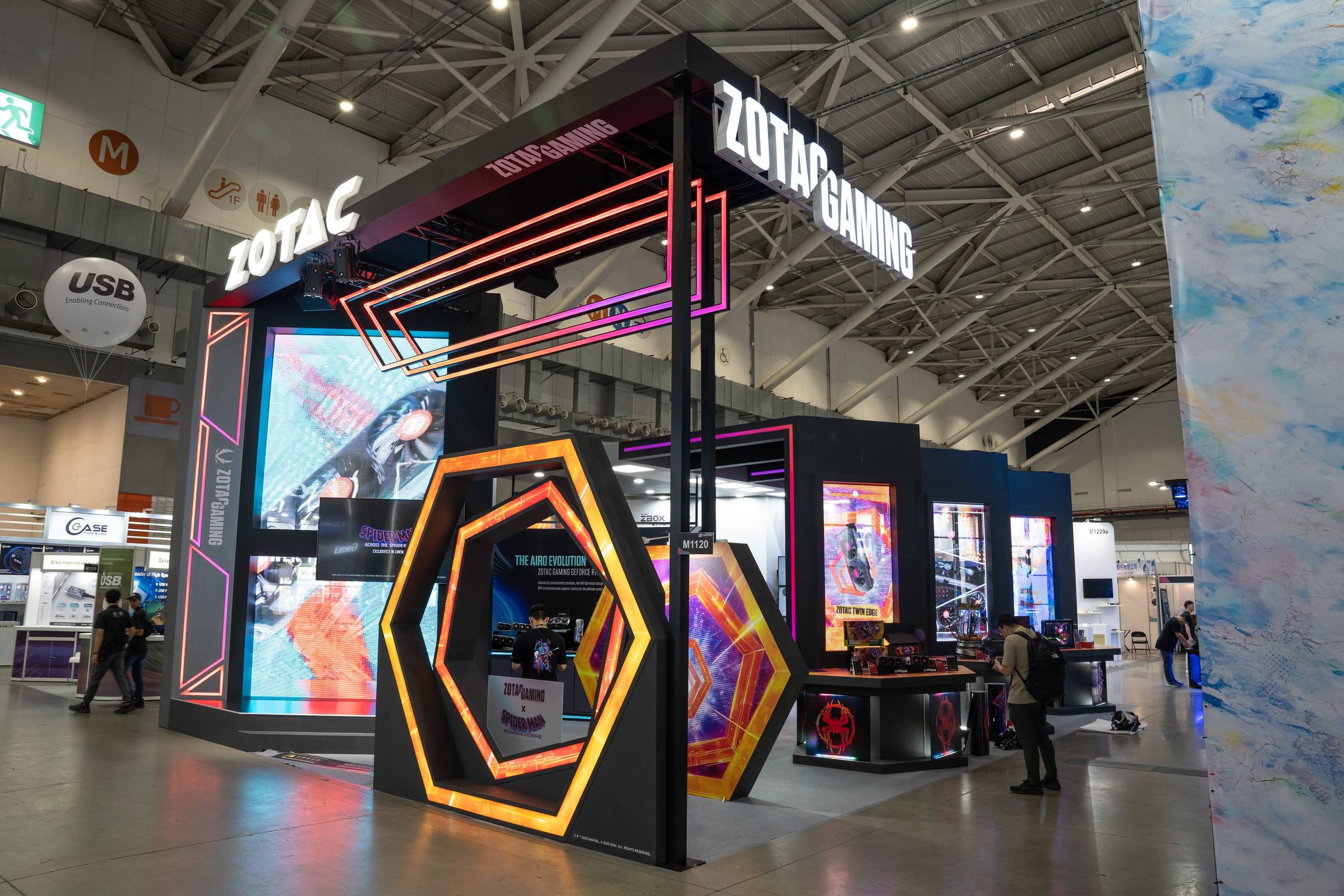 Just look at that booth design! In line with the ZOTAC GAMING "Power the Hero In You" campaign with Sony Animation's Spider-Man™: Across the Spider-Verse, the booth drew heavy inspiration from the movie.
Of course, our booth featured ZOTAC GAMING graphics cards, a cornerstone of ZOTAC's product lineup. From flagship to more compact GPUs, attendees could appreciate the unique, aerodynamic-inspired design of ZOTAC GAMING 40-Series GPUs.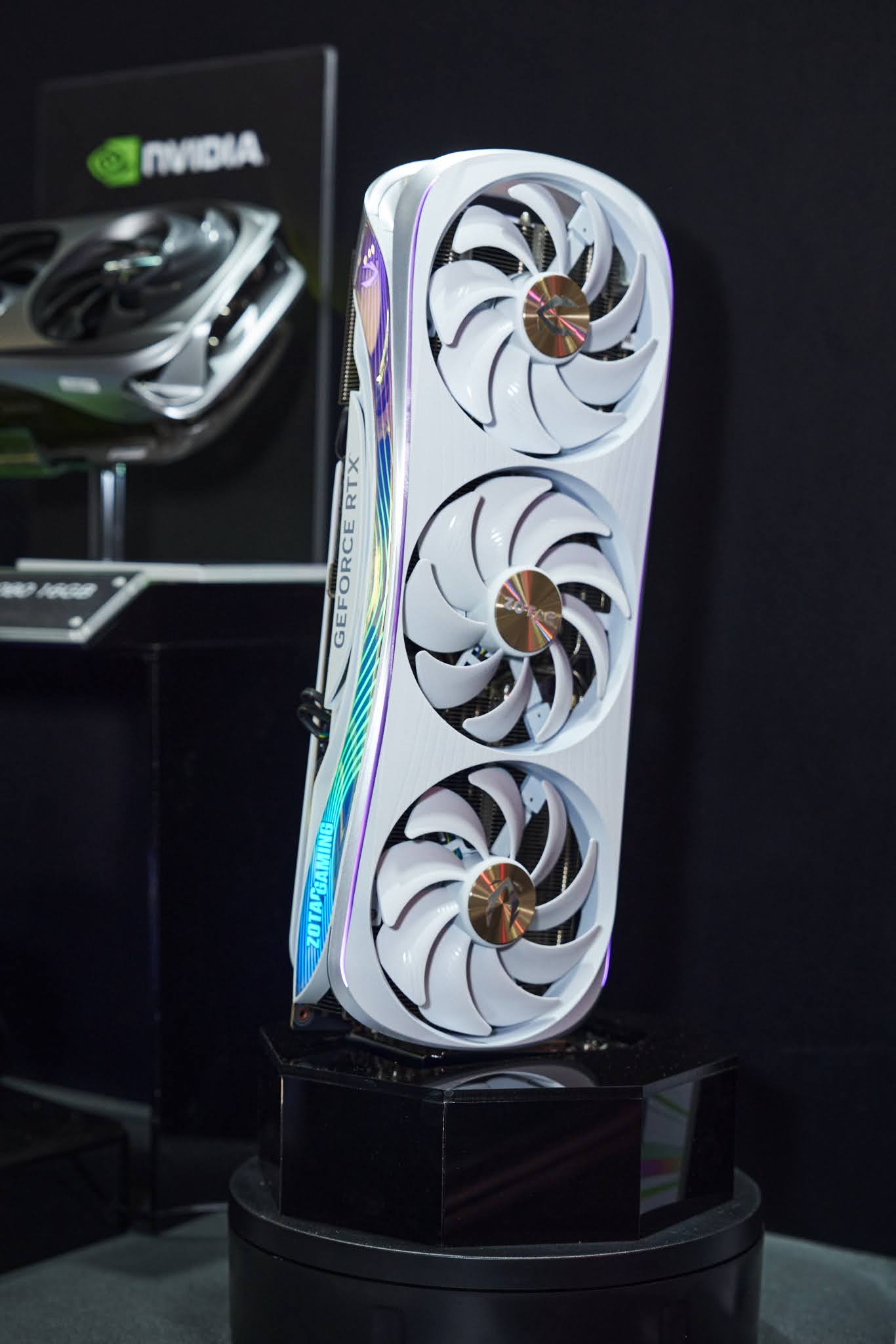 The ZOTAC GAMING GeForce RTX 4090 AMP EXTREME AIRO White Edition, stands tall as a current-gen flagship GPU in all its glory. Not only did the pure white aesthetics captivate visitors, the SPECTRA 2.0 ARGB lighting also gives the GPU just the right touch of flare.
ZBOX pico PI430AJ with AirJet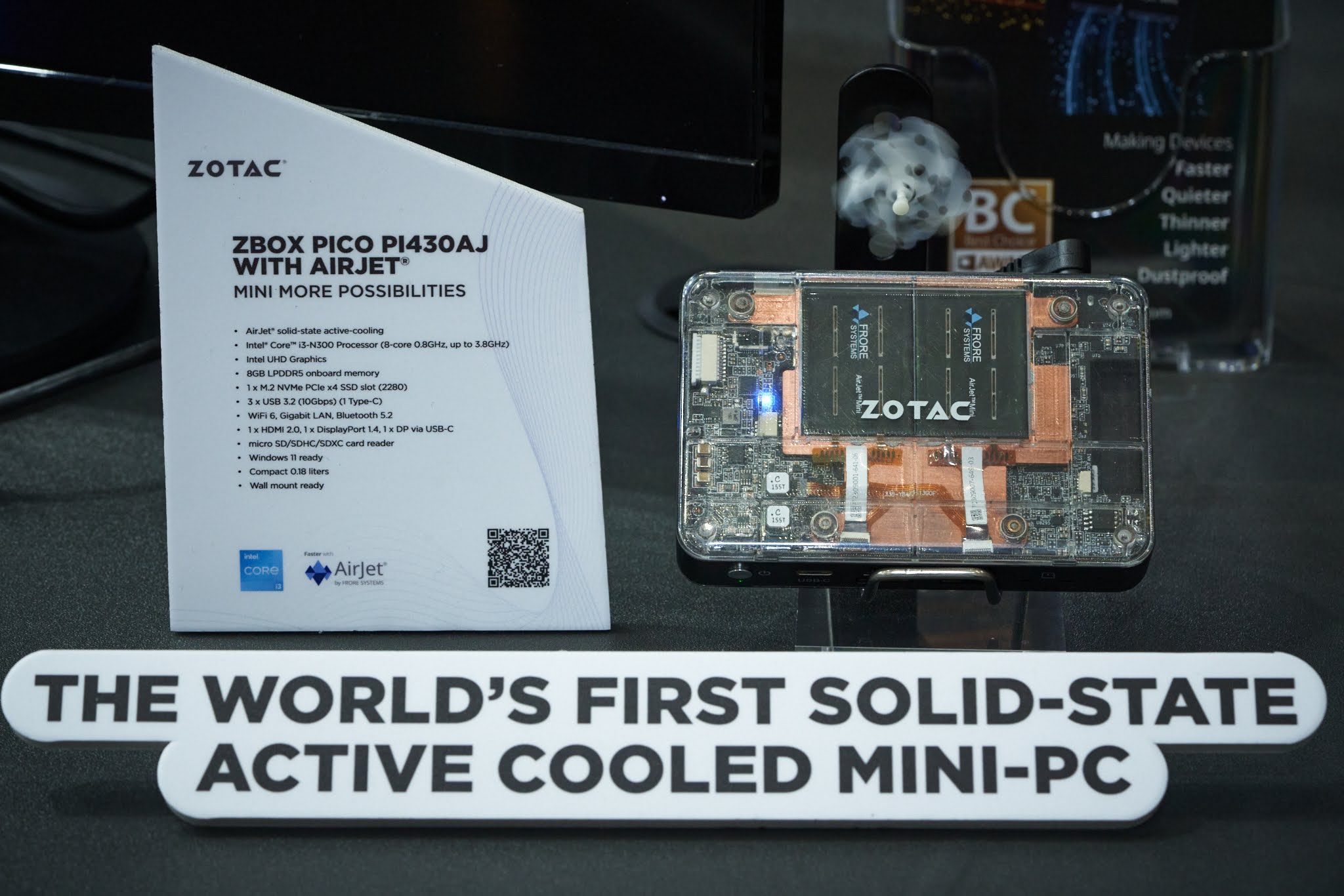 Featuring the AirJet® Solid-State Active Cooling chip by Frore Systems, the ZBOX pico is the first commercialized product of its kind using this revolutionary fanless cooling solution in the world.
On the second day of COMPUTEX 2023, we held a joint media event with Frore Systems to formally announce the revolutionary active-cooled Mini PC to the world, and media flooded the scene to get a glimpse.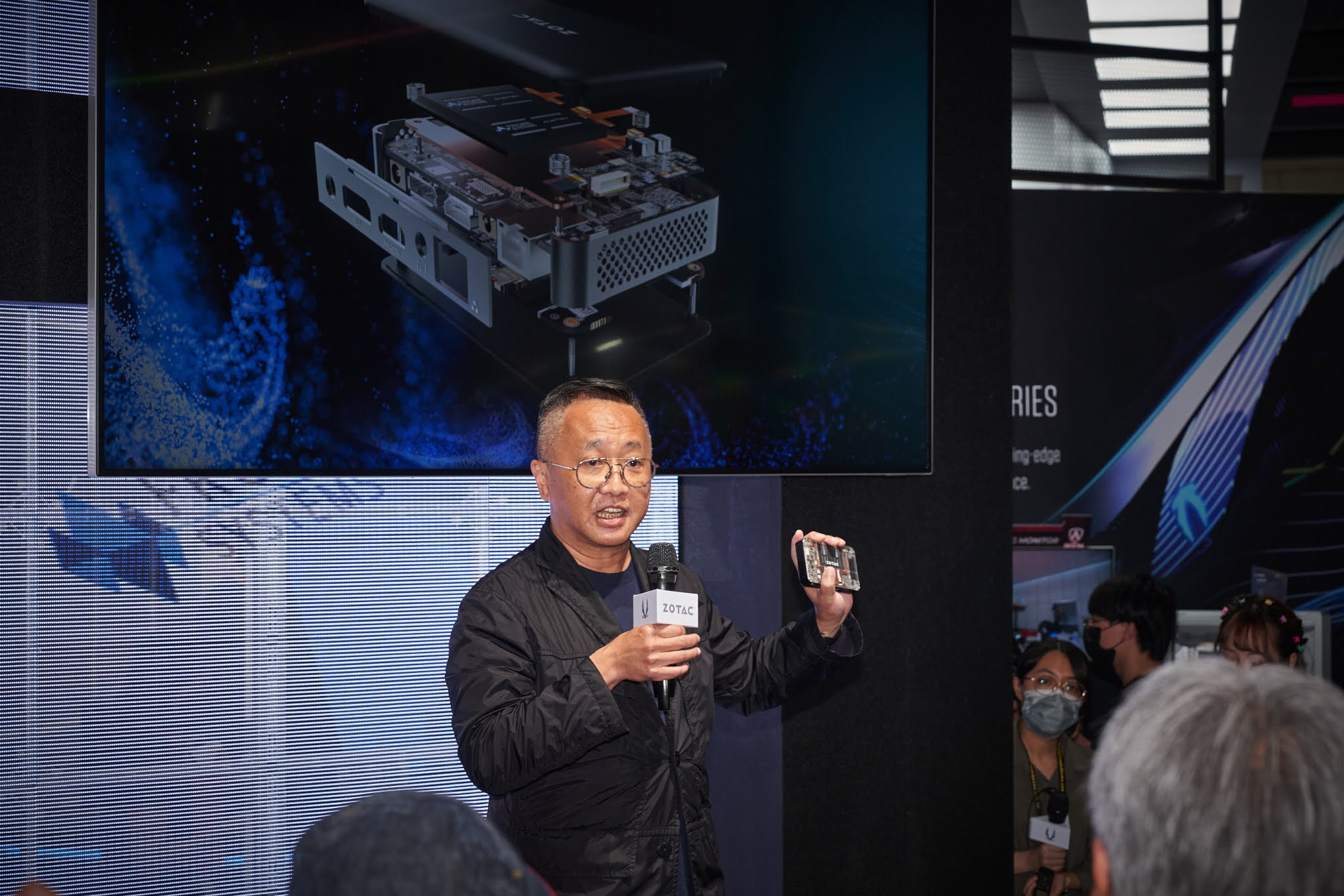 On stage, our Product Director, Jacky Huang, elaborated more on the story behind the ZBOX pico PI430AJ with AirJet.
"This is the moment we win the war against heat," Jacky says, holding the PI430AJ. "When we first learned of this mind-blowing technology, we knew that we need to get Frore on the phone for a cooperation. Our team was very excited to integrate the AirJet technology into our devices."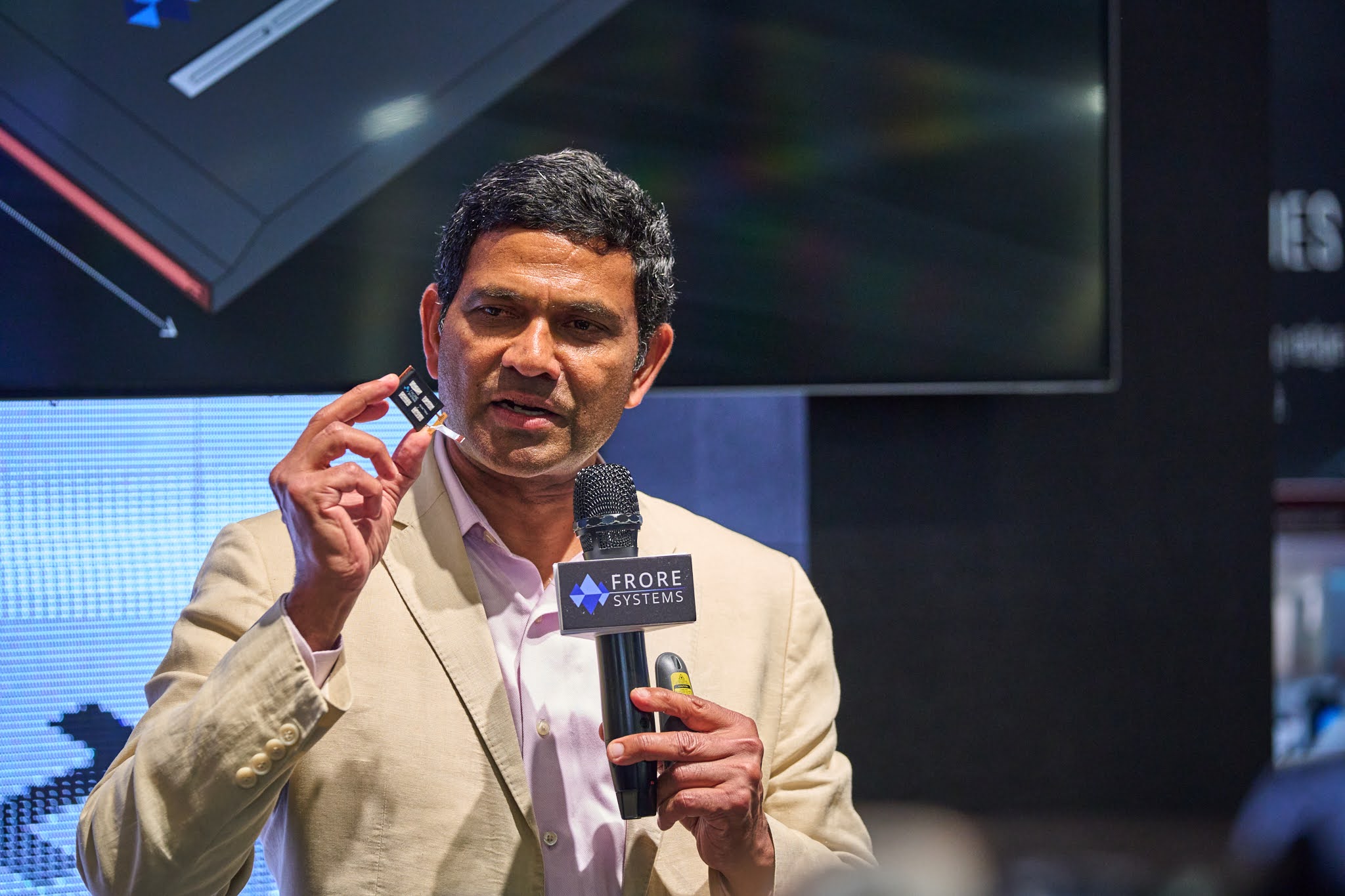 Dr. Seshu Madhavapeddy, Founder and CEO of Frore Systems, also gave us some details on the technology behind the AirJet.
In short, the AirJet has tiny, microscopic membranes that vibrate at such an incredible rate that it generates airflow to actively dissipate heat. This allow ZOTAC to deck the pico with stronger hardware without changing its slim form factor.
Next-Generation MAGNUS ONE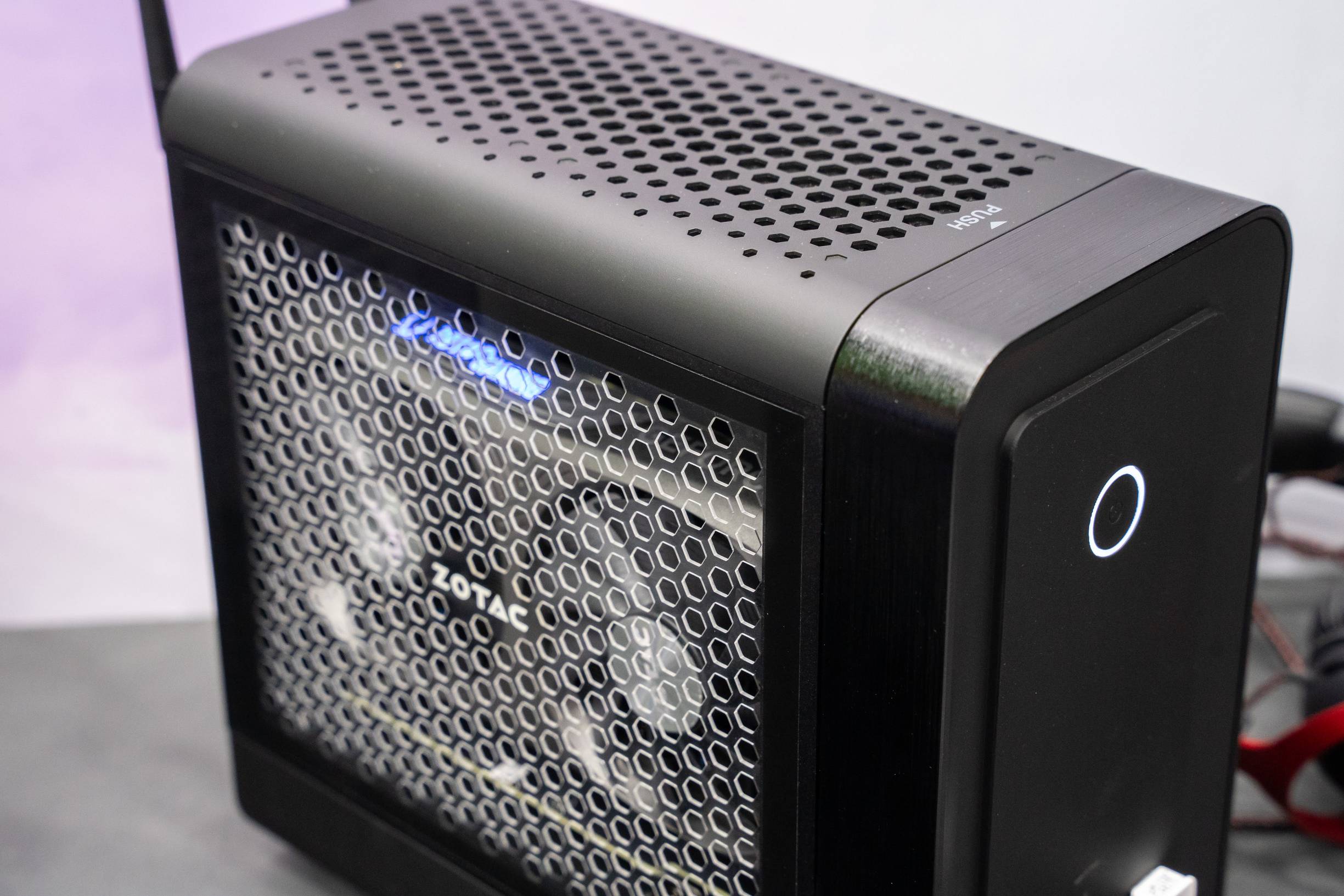 The all-new MAGNUS ONE ERP74070C retains the iconic 8.3 Liter compact chassis, while the insides of the machine was given a generational leap with a GeForce RTX 4070 graphics card and 13th gen Intel Core i7. This compact beast is ready to work hard, and play harder!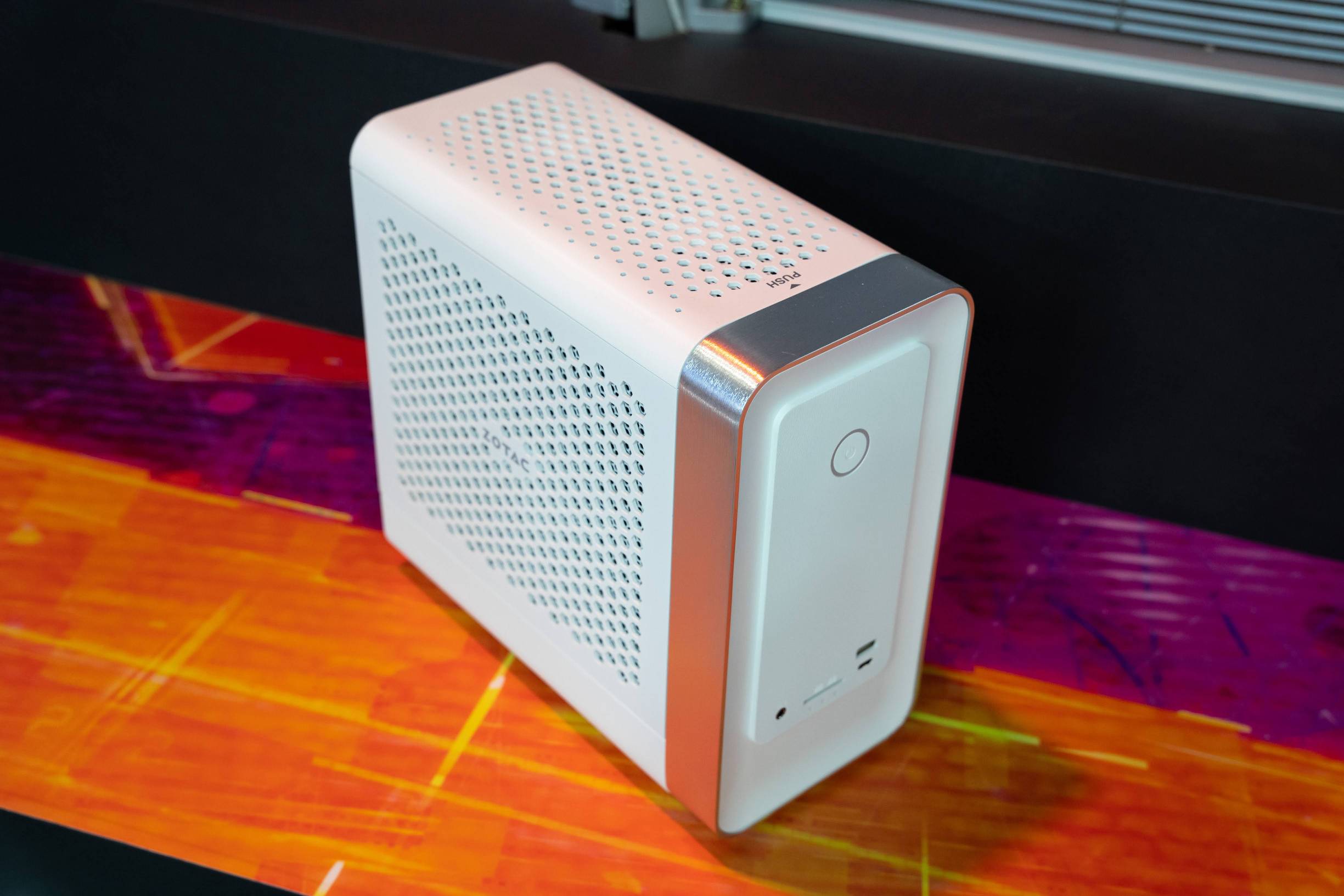 We also have an special, one-off White Edition MAGNUS ONE on display at COMPUTEX 2023! Although we've said that it would be a one-off display, but perhaps...?
"POWER THE HERO IN YOU"
Not only was our booth centered on the Spider-Man™: Across the Spider-Verse by Sony Animations, we also had plenty of themed products to show for!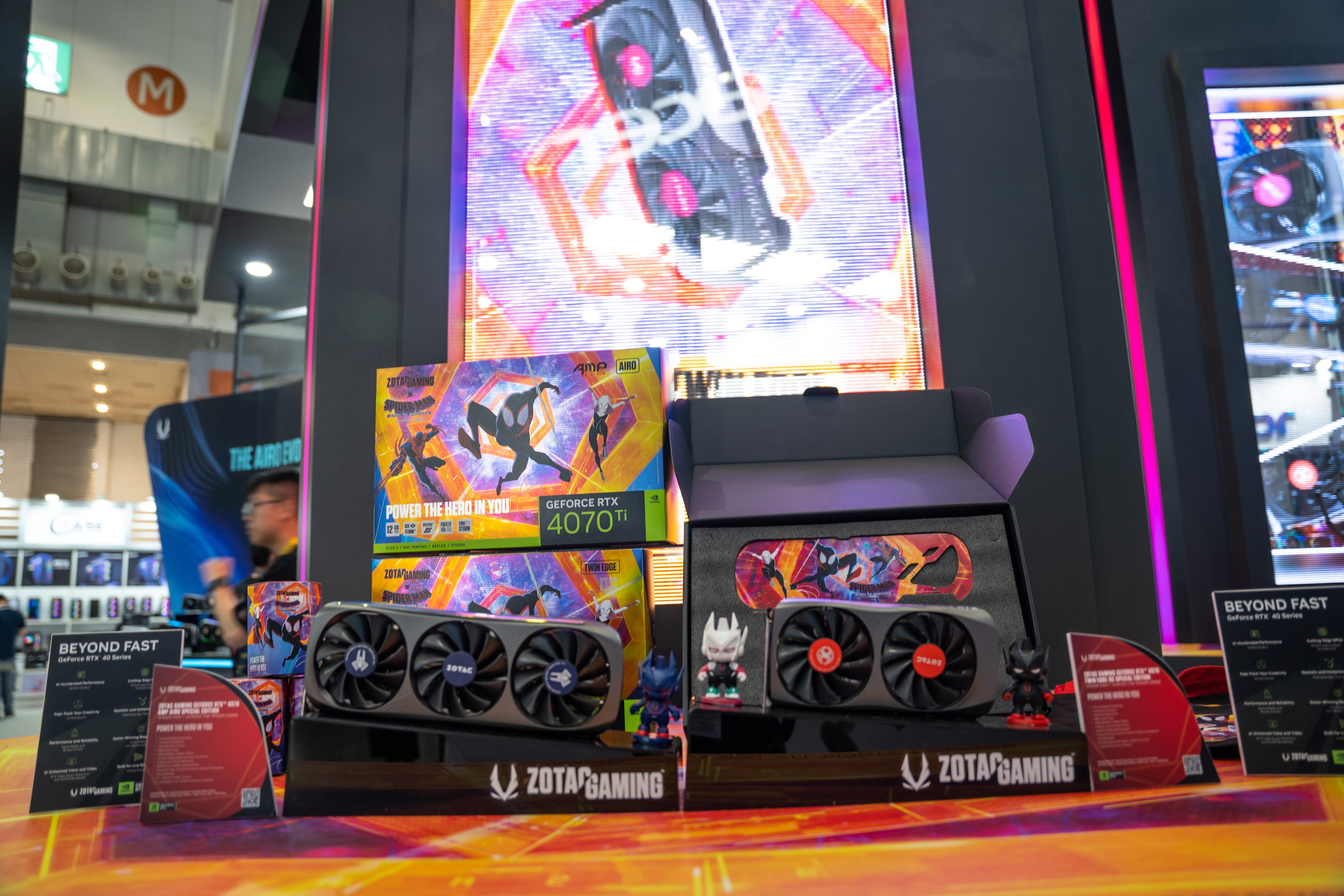 On display were our Spider-Man™: Across the Spider-Verse-inspired graphics card AMP AIRO and Twin Edge OC bundles, with the bundled goodies on full display: our themed ZOTAC figurines, fan emblems, backplates, and tote bags!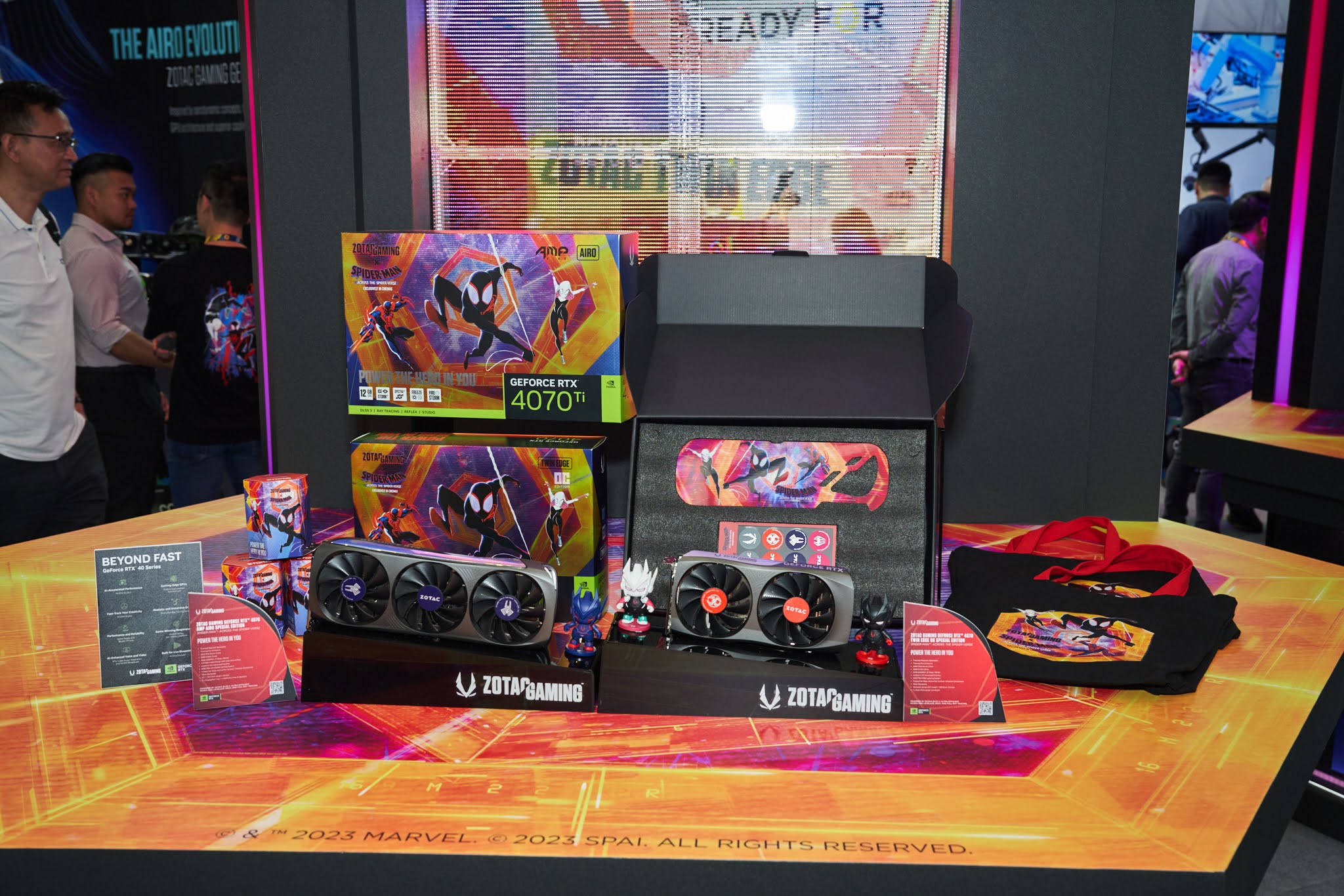 Other than that, we also have two expertly built casemods themed around the movie, much to the delight of fellow hardware enthusiasts: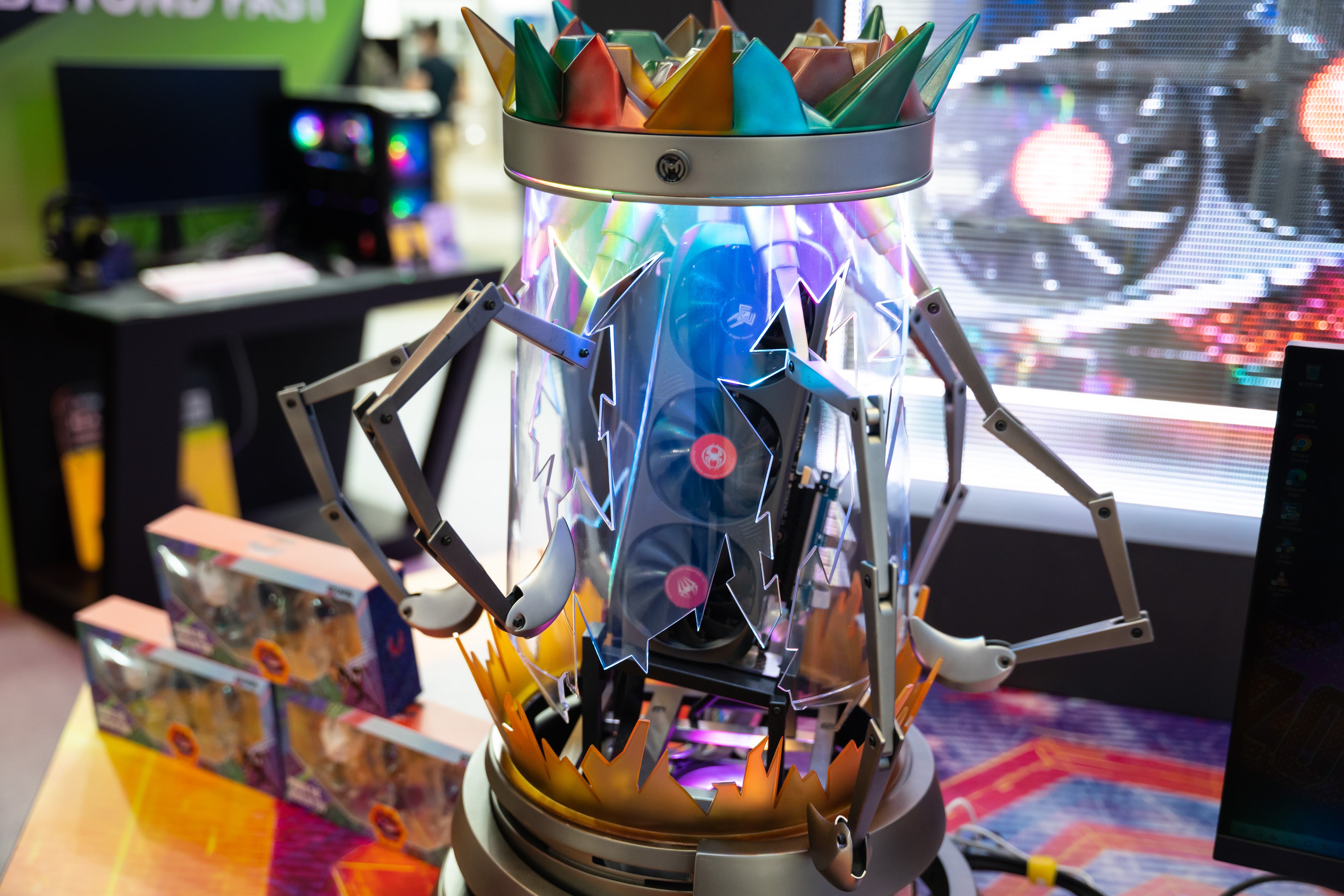 This one, built by Mark's Fabrication from Taiwan, is styled after a mysterious machine featured in the movie.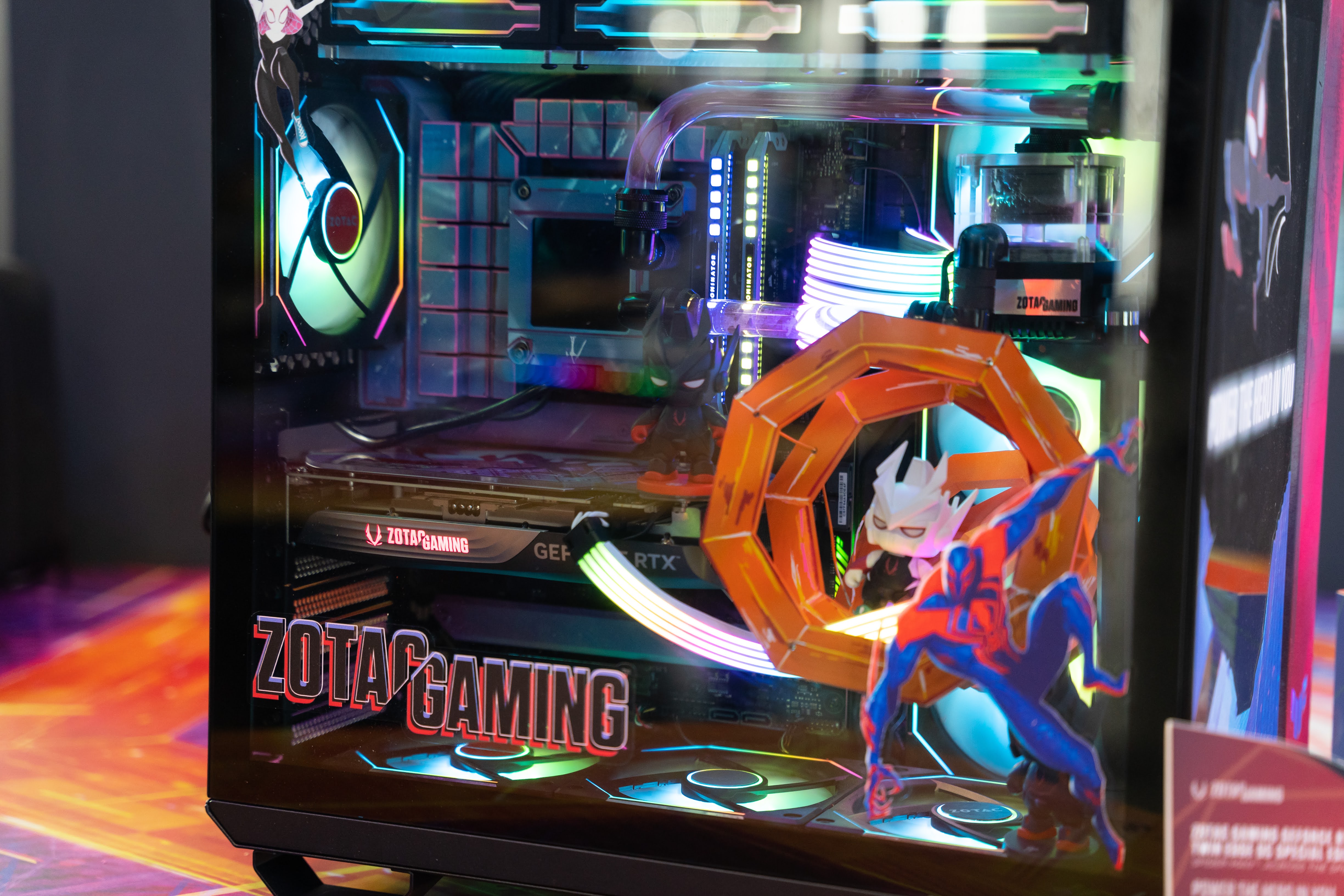 This one by PugLife PC from Hong Kong, features our 4070 Twin Edge OC graphics card, and our Spider-Gwen-inspired Ztorm Figurine!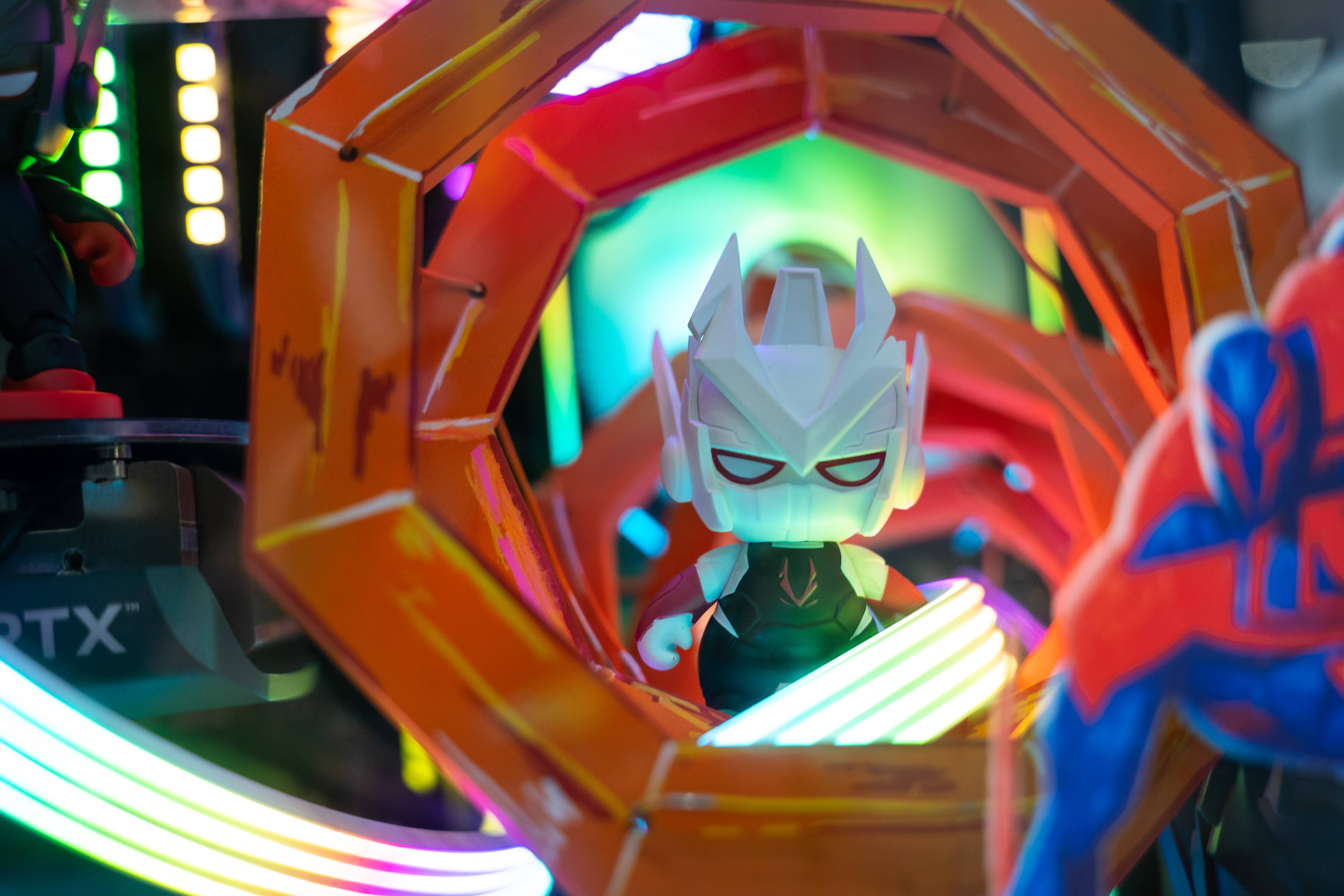 This is certainly an idea on where to put your movie-themed ZTORM figurine, after getting one of them from the bundle!
ZBOX PRO
ZOTAC also showcased its more serious side this year with our latest lineup of enterprise level solutions. Other than the ZBOX PRO lineup, there's also a whole host of embedded graphics cards, as well as NVIDIA Jetson™ ARM-based Mini PC platforms on display. These robust, industrial grade machines are designed specifically for embedded and edge computing applications.
We thank everyone for the incredible experience and we hope to see you all again next year!
ZOTAC Wins A'Design Award, GDUSA Award & iF Design Award

ZOTAC is also excited to announce that we have received several design awards, including the iF Design Awards, A'Design Awards, and the American Packaging Design Awards. Not only do each of these awards serve as fruits of the labor of our amazing design team, they also bolster our conviction as we continue to innovate and break the mold going forward.
You can read about the awards with the following link:
ZOTAC Wins iF Design Award, GDUSA Award & A' Design Award | ZOTAC
To receive up-to-date news from us, SIGN UP for the ZOTAC Monthly Newsletter.