MAGNUS ONE - Simplicity At Its Best

2021.02.17 4:00 AM

 

The ZOTAC ZBOX MAGNUS ONE was a long time coming. Looking back at past models of from the E Series line of ZOTAC ZBOX Mini PCs, it all started with the ZBOX EN760, ZOTAC's first serious foray into a tiny gaming powerhouse packed with a mobile NVIDIA GeForce GPU. Then came the MAGNUS EC series combining compact size with Desktop GPU power. Now, the MAGNUS ONE is here to lead the revolution of Mini PCs with a focus on simplicity with performance.

So…why is the MAGNUS ONE simplicity at its best?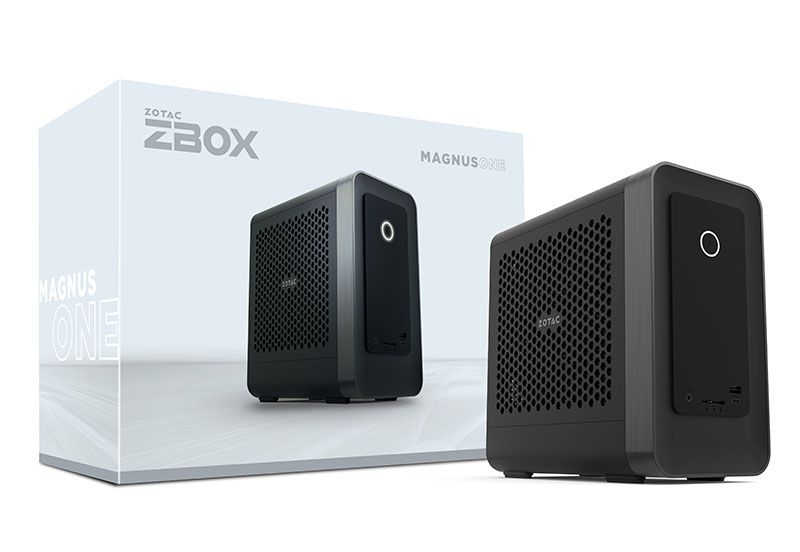 Minimalistic design
It's a tradition among the ZOTAC ZBOX Mini PCs to come with a minimalistic and simple design that focuses more on function over form. It's no surprise as compact as the ZOTAC ZBOX Mini PCs are, cooling and noise efficiency largely outweigh design. MAGNUS ONE continues this tradition while housing powerful components inside, its wrapped with a 180-degree of designed ventilation allowing maximum breathability with a beautifully selected texture that compliments and enhances the overall design and feel.
Effective cooling
Cooling is a large factor in the design and with many MAGNUS models over the years, the improvement can be easily seen. The MAGNUS ONE brings a vertical design due to the host of powerful components in such a compact body to enhance the cooling. The exhaust heat from the system is drawn up and out from the system. The other factor involves isolating the two hottest components in the system with separate chambers to reduce the exhaust heat released from contaminating each other. Another bonus is that both the GPU and top case fans support fan stop when idle. This not only reduces overall noise but extends the longevity of the fans.
Easy access
In just 3 steps, you can gain access to the internals without any tools for upgrading memory and storage or just regular maintenance, which we recommend that you do on a regular interval. Using just your fingers, undo the two thumbscrews located at the rear of MAGNUS ONE, push the top lid back and lift to remove, then lift the side panels up and out. That's it. Do it in reverse to re-assemble.
Another added benefit is that there's no need to worry about any cables when removing the panels. One less thing to worry about.
Simple Upgradeability
There are 2 SODIMM DDR4 memory slots supporting up to 64GB of memory. There are also 2 M.2 SSD slots for fast storage needs. One slot supports NVMe or SATA M.2 SSDs (left slot) and the other supports an NVMe SSD or Intel Optane memory (right slot). In case 2 M.2 SSD slots are not enough, there's also an available 2.5" HDD/SSD slot for even more storage. A screwdriver is only required for the M.2 SSD as it utilizes a screw to secure the drive down to the motherboard. Both the memory and 2.5" HDD/SSD can be installed/removed without any tools.
Integrated Power
MAGNUS ONE is the first ZOTAC ZBOX Mini PC to have a power supply internally. Gone are the external power brick(s) and all that's needed is a power cable. This makes cable management ever more easy.
Compactness
The compact size of MAGNUS ONE is beautiful in itself. Due to the small size, it can be placed at the desk level so the system and its ports are within hands reach. It also doesn't take much foot space leaving you with more desk space for a cleaner setup. The small size is also a benefit when you need to travel with the system or ship the system. The system can easily be hand carried or packed into a bag/backpack for convenient carrying.
Ready to go out of the box
We're referring to the Windows model of the MAGNUS ONE. With 16GB of DDR4 SO-DIMM memory, 512GB M.2 SSD, 1TB HDD, and Windows 10 Home OS pre-installed, all that's left is for you to connect it to power and peripherals such as a keyboard, mouse, and display. That's it. You're off and running ready to install additional applications as you need.
No pre-installed software
When you first power on the MAGNUS ONE with Windows model, you'll load right into the Windows 10 Home OS as if the OS was freshly installed. This also means there's no additional bloatware you'll need to spend time uninstalling, removing icons from the desktop, or worry about software taking up precious computing resources which could cause the system to slow down.
One system to do it all
A small and compact system that's also powerful? MAGNUS ONE isn't ZOTAC's first to do so but it can indeed be your one system to do it all. Thanks to the dedicated GeForce RTX GPU, it can accelerate performance in design applications such as Photoshop, Lightroom, video editing applications such as Premiere or DaVinci Resolve so you can continue creating.
MAGNUS ONE can also be your gaming PC thanks to the GeForce RTX GPU inside. The MAGNUS ONE ECM73070 model has a ZOTAC GAMING GeForce RTX 3070 so you can play today's latest AAA titles at their best in up to 1440p resolution and even some in 4K. It can also handle VR just fine.
MAGNUS ONE can be your overpowered HTPC powering one of the largest displays in your home so you can enjoy the latest shows in the highest fidelity.
MAGNUS ONE can also be your Work PC allowing you to multi-task like a champ thanks to the multi-core desktop grade Intel Core i7 processor. Whether you use a single monitor, an ultrawide display, or multi-monitor setup (up to 4), MAGNUS ONE can do it with an available HDMI 2.1 and 3x DisplayPort 1.4a ports.