SPECTRA 2.0 Lighting Capabilities

2019.09.18 2:00 PM

ZOTAC SPECTRA is a proprietary RGB control application that first came out some years ago. It works with ZOTAC hardware and controls the integrated RGB lighting that is found in select ZOTAC hardware products. Early versions of SPECTRA provided very basic RGB visual control and display options such as lighting that stayed solid, flashed, faded, and so forth. The first generation of SPECTRA has been featured on several ZOTAC GeForce graphics cards (mainly the AMP and AMP EXTREME series) as well as the ZOTAC GAMING MEK1 PC gaming system, which was introduced in early 2018.

Since its initial release, SPECTRA has improved greatly and matured into what is now SPECTRA 2.0. It is available on the ZOTAC GAMING MEK ULTRA and MEK MINI PC Gaming Systems as well as on the VR GO 2.0 and 3.0 models and select ZOTAC GAMING GeForce RTX and RTX SUPER 20-series graphics cards, as well as legacy ZBOX MAGNUS E-series Mini PCs. SPECTRA 2.0 now uses advanced Assignable RGB (ARGB) lighting for silky smooth visual lighting transitions. SPECTRA 2.0 brings much more complex effect displays that go well beyond the usual effects of the first generation of SPECTRA.
To showcase SPECTRA 2.0 capabilities, we've provided a brief description of what each display effect does and have also provided videos to show you what the lighting effects look like on the ZOTAC GAMING MEK MINI and MEK ULTRA Gaming PCs.



MEK MINI SPECTRA 2.0 Lighting Effects
MEK ULTRA SPECTRA 2.0 Lighting Effects


Each product that features SPECTRA or SPECTRA 2.0 lighting has its own version that must be used. Download links are available at the bottom of this article. For some select ZOTAC GAMING Graphics Cards, such as the RTX 2080 Ti AMP EXTREME, SPECTRA 2.0 control is built into the FireStorm application.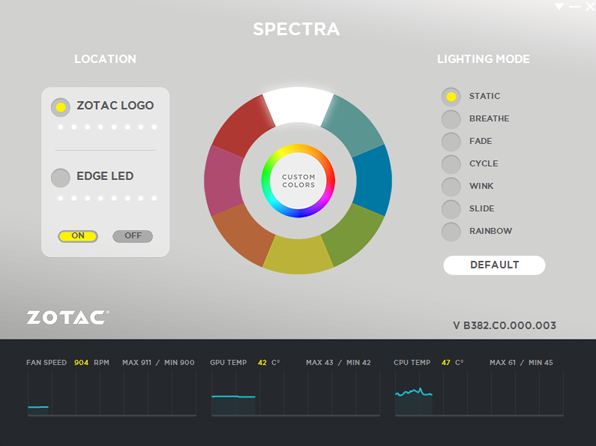 The SPECTRA 2.0 interface for the VR GO 2.0 and VR GO 3.0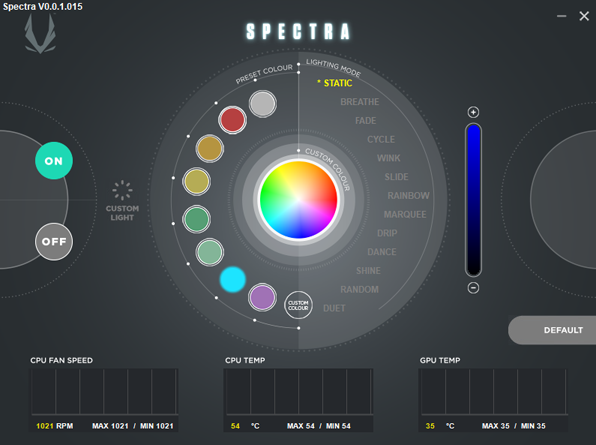 The SPECTRA 2.0 interface for the MEK MINI and MEK ULTRA




SPECTRA 2.0 works the same for the MEK MINI, MEK ULTRA, and VR GO 2.0 and 3.0 systems. Standard and custom colors can be selected, different effects can be applied to different zones - for example, on the MEK MINI the logo can have its own effect and the front facing lighting bars can have a completely different effect - not all lighting has to be the same! There is a whole slew of different effect options to choose from, it's as simple as clicking on the effect you want. Lights can be turned off as well. A "Default" option is available for applying factory settings. More information regarding SPECTRA and the MEK1 can be found here.



SPECTRA 2.0 effects include the following modes:
| Effect | Description |
| --- | --- |
| Static | Solid colors that don't change. You can select from a standard set of colors or select a custom color. Individual colors can also be selected for the front facing logo and the light bars. Note: the MEK ULTRA does not have an ARGB-lit front logo. |
| Breathe | Lights will slowly dim in and out producing a breathing effect. |
| Fade | Lighting will fade between different standard colors. |
| Cycle | Lighting will rotate through different standard colors. |
| Wink | Lighting will blink in and out. |
| Slide | Lighting will slowly slide upwards. |
| Rainbow | Lighting will utilize all available standard colors to create a rainbow-like effect that slides downwards. |
| Marquee | A similar effect as the Slide option, selecting Marquee will cause lighting to rapidly move upwards. The MEK MINI front logo will blink. |
| Drip | Another similar effect to the Slide option, selecting Drip will cause lighting to stutter upwards. The MEK MINI front logo will blink. |
| Dance | This effect will only work when audio is playing. If you're playing a PC game, movie, or music (or anything else with audio) the lighting will turn the front logo and light bars into a spectrum that reacts to whichever audio is currently being played. Basically, the lighting will go along with the music. |
| Shine | Similar to the Dance effect, it will also not function unless you're playing a PC game, movie, music (or anything else with audio) - however, instead of flickering like the Dance effect, the Shine effect increases and decreasing brightness depending on the audio currently playing on the system. |
| Random | This effect is exactly that...random. When enabled, the effect will provide a completely random effect. On the MEK MINI, the effect is applied to both the front logo and light bars. |
| Duet | Lighting will flicker rapidly between two different colors much like an emergency services vehicle (police car, ambulance, firetruck). |
| Individual Lighting Control | Additionally, the front logo and light bars on the MEK MINI can also have their own individual effect enabled. The MEK ULTRA does not feature an aRGB front logo. |
DOWNLOAD SPECTRA
| Product | SPECTRA Version | Download Link |
| --- | --- | --- |
| MEK1 (all models) | SPECTRA | DOWNLOAD |
| MEK MINI (all models) | SPECTRA 2.0 | DOWNLOAD |
| MEK ULTRA (Models with 9th Gen CPU) | SPECTRA 2.0 | DOWNLOAD |
| VR GO 4.0 | SPECTRA 2.0 | DOWNLOAD |
| VR GO 3.0 | SPECTRA 2.0 | DOWNLOAD |
| VR GO 2.0 | SPECTRA 2.0 | DOWNLOAD |
| GeForce RTX 30 Series Graphics Cards | FireStorm with SPECTRA Control | DOWNLOAD |
| GeForce RTX 20 and GTX 16 Series Graphics Cards | FireStorm with SPECTRA Control | DOWNLOAD |
| GeForce GTX and GT Series Graphics Cards | FireStorm with SPECTRA Control | DOWNLOAD |